The number of people already registered for the Catalan National Day demonstration on 11th September is greater than the number registered by the same time last year. The protest already has more than 50,000 people signed up, according to sources from the ANC (Catalan National Assembly) which is organising the event. In addition, there are already 800 coaches that have confirmed they will be coming. The ANC's official website has created an interactive map so that anyone interested can check the state of each section and thereby register for those which are the most empty. The colouring is from red for stretches that are already full to dark green for those with the least so far.
The day's motto will be La Diada del Sí (The Day of the Yes [to independence]), since the Assembly wants it to be the last one that has to be celebrated, the definitive one. The meeting place will be the crossroads between two of the main streets in Barcelona, carrer d'Aragó and passeig de Gràcia, where a huge plus sign (+) will be formed. According to ANC, this was chosen to symbolise "all the opportunities of the new State in the form of a republic and to communicate a positive message." "Do you want Catalonia to become an independent state in the form of a republic?" is the final wording of the question for the independence referendum to be held less than a month later, on 1st October.
Currently many sections remain empty, but the Assembly is relaxed, because "as always happens, we have to wait up to the final moment". It's in the last few days before the 11th that the majority of the participants sign up. At present the distribution of attendees as follows:
- The central section is full
- Two stretches have a medium registration
- Two stretches have little registration
- 44 stretches have low registration
​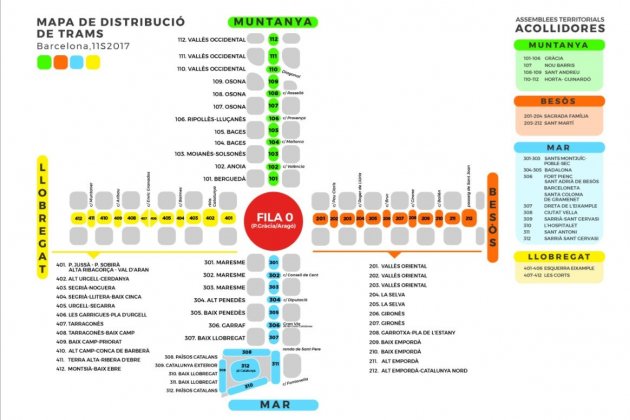 This year there will be 49 sections distributed by county. Sign-ups can be made through the ANC's web page (in Catalan) or by telephone, by individuals or groups.