Following Carles Puigdemont's most recent success in facing down the persecution of Supreme Court judge Pablo Llarena, the former Catalan president has spoken out in defence of the strategy being followed by the pro-independence politicians in exile. In an op-ed piece in Catalan daily El Punt Avui, the MEP has asked the Catalan government to avoid including his personal situation in the agenda of the dialogue table with the Spanish state. "We didn't go into exile to ask for a pardon," he affirmed.
Puigdemont demands that the strategy chosen and defended for four years by the politicians in exile should be respected. "I ask that no one speak for us, and that they should not interfere in our strategy by looking for shortcuts that we don't want," the president said, addressing the government.
The leader of the Together for Catalonia party stated that a coordinated pro-independence strategy is needed to achieve success, and that is not fulfilled if the strategy of the exiles is not listened to or respected.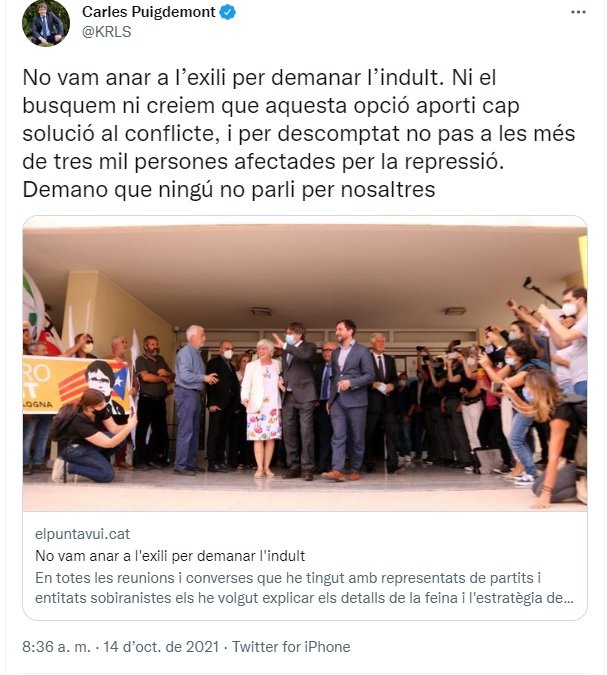 Translation: "We didn't go into exile to seek a pardon. We neither want one nor do we believe that this option offers any solution to the conflict, and of course it doesn't do so for the more than 3,000 people affected by the repression. I ask that no-one speak for us" -Carles Puigdemont 
Not individual solutions but a collective view
Personal situations aside, the focus must be on the collective resolution of the conflict, according to Puigdemont. He does not want his own situation to be on the dialogue table, and on this, he addressed the Aragonès executive directly. "I therefore ask that my personal situation not be part of any agenda of the so-called dialogue table agreed by the ERC and the Spanish government or of any bilateral talks."
But what is the possible solution to Puigdemont's personal situation that could be discussed at the table? A pardon in advance. This is a regularization of the situation of those in exile that Puigdemont and his colleagues in Europe reject. "We do not seek any pardon in advance and nor do we believe that this option will provide a solution to the conflict," he said, adding: "Four year of exile have reaffirmed in us the idea that the solution to the conflict between Catalonia and Spain is political and collective; that there are no personal ways out or solutions tailored to anyone".
The situation of Puigdemont and other exiled politicians has been present in statements on the objectives and uses of dialogue with the state. For example, Catalan president Pere Aragonès has affirmed that Puigdemont is in exile because of "the repression" and that one of the aims of dialogue with the state was to put an end to this repression through an amnesty law. Legislation that Aragonès considers would allow those abroad facing state retaliation to return.
The proposal to facilitate the return of the exiles through the amnesty law, of which Aragonès had previously spoken, then arose in response to the statements of the former Spanish prime minister, José Luis Rodríguez Zapatero, who considered that Puigdemont's situation is a decisive factor in the dialogue table and assured that "there are people thinking about it".
For his part, Puigdemont reiterated that the return from exile must not be conditioned by others. The president and MEP confirmed the desire of those abroad to "return as free people, as we were when we went into exile." The president has said that this "is an idea that is with me everyday when I get up and when I go to bed."
Respect for positions
Puigdemont recalled in his El Punt Avui opinion article that during his years in exile he has respected the different strategies and tried not to influence them. Now he wants this liberty for himself, to choose with regard to his own situation from the perspective that seems most appropriate to him, not as dictated by the Catalan government. "They don't have to fix anything for me beforehand," he said.
The president explained that in the time they have been in exile they have made mistakes, but they have done their duty, which makes them firmly believe in the path of exile as a way of fighting against "a demophobic state." "The path of our return must be inspired by this commitment", he explained.
"It is possible that our strategy will go wrong. And that we will have to face two negative scenarios: one, the worst, extradition to Spain and undoubtedly a sentence of many years in prison; the other, bad and sad but not so dark, that we will have to stay in exile for a long time", said Puigdemont, but he opened a door to optimism:
"It is also possible, and this is what we are working for every day, that our strategy will achieve the goals we have set for ourselves, a circumstance for which we are also prepared. We have never given up and we will not do so now."
However, he does offer to help negotiate with the state, always without preconditions. "If it is thought that I have a role with responsibility in a real process of political negotiation with the Spanish state, without preconditions and with all the ambition that has to be assumed, I can take that role perfectly from my life in exile," said Puigdemont.