The case of the 100 million dollar Swiss bank account of former Spanish king Juan Carlos I which, according to the Tribune de Genève, may have come from commissions paid on the Spanish contract to build a high speed rail system in Saudi Arabia, has exploded in the international press. 
Numerous European media have been asking questions about the case and its implications, which affect areas from high politics and diplomacy, passing through economic transparency to tacky celebrity scandal:
French business daily Les echos
"One thing seems clear: former king Juan Carlos, father of the current king of Spain, has received 100 million dollars from Saudi Arabia, transferred to Geneva into an account with the Mirabaud bank in the name of a Panamanian company of which he was the sole beneficiary."
Pourquoi l'ancien monarque espagnol a-t-il reçu 100 millions de dollars versés par le roi Abdallah d'Arabie saoudite sur un compte genevois ?https://t.co/ARmlnfYbhh

— Les Echos (@LesEchos) March 5, 2020
News programme on Radio Télévision Suisse
"The account at Mirabaud bank was closed in 2012 following a scandal caused by photographs of an expensive safari. The king of Spain was hunting elephants when his country was in the depths of a crisis," says the Swiss public broadcaster.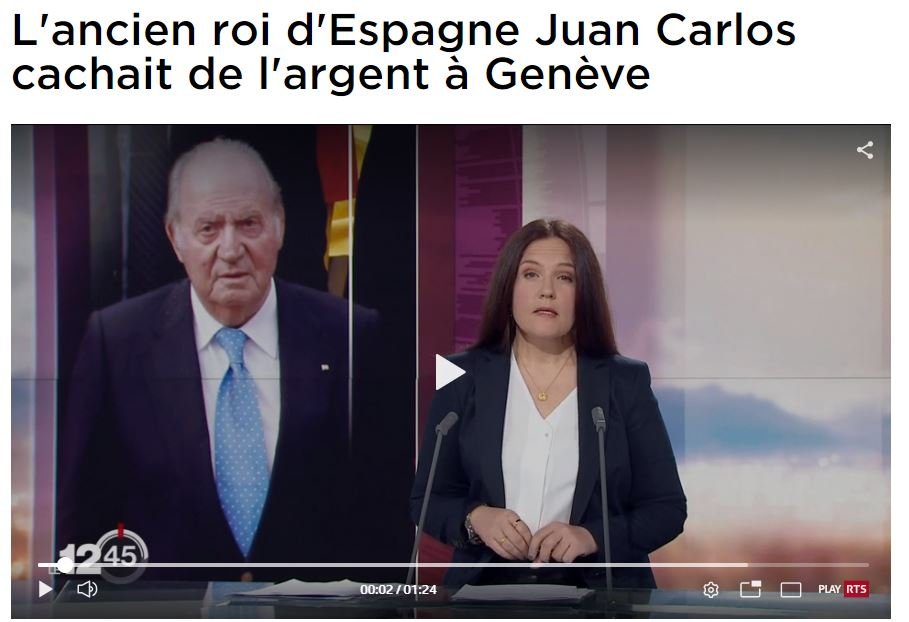 Newspaper La libre Belgique
The Belgian daily reports: "At that time, Spain and France were disputing a 6 billion euro contract to build a train line between Medina and Mecca. Spain won the contract."
Le roi Juan Carlos d'Espagne aurait dissimulé 100 millions de dollars à Genève (Mise à jour) https://t.co/mwdJxquYuk pic.twitter.com/g9x5L6bucL

— lalibre.be (@lalibrebe) March 4, 2020
Switzerland's Tages Anzeiger
"Why did the Saudi king transfer 100 million dollars to the Spanish king?" asks the German-language daily. 
Weshalb hat der saudische dem spanischen König 100 Millionen Dollar überwiesen? (Abo+) https://t.co/ro0Yr16izK

— Tages-Anzeiger (@tagesanzeiger) March 4, 2020
French news magazine Le Point
"The Spanish sovereign received this money from Saudi Arabia in 2008. Four years later, he sent a large portion of it to his mistress [Corinna zu Sayn-Wittgenstein]"
Le souverain espagnol a perçu cet argent de l'Arabie saoudite en 2008. Quatre ans plus tard, il en a reversé une grande partie à sa maîtresse. https://t.co/UiRpRLcyWn @IanHamel

— Le Point (@LePoint) March 4, 2020
British daily The Telegraph
"Juan Carlos, who abdicated under a cloud of bad publicity in 2014, jetted to the Grand Prix in Abu Dhabi and the Dominican Republic using money earned by his cousin for the disastrous sale of a Spanish bank to Barclays."
Former King of Spain Juan Carlos funded private jets from foundation linked to Swiss investigation https://t.co/BPeeKUkAIa

— Hedwig Janés (@HedwigJanes) March 5, 2020
Tribune de Genève, which started the investigation
"Juan Carlos hid 100 million in Geneva"
#ALaUne Juan Carlos d'Espagne cachait 100 millions à #Genève -- Le test de dépistage du #coronavirus peut être remboursé -- Hockey Award: l'entraineur du @officialGSHC récompensé https://t.co/Q7KkH6LGkG pic.twitter.com/ILlvO6YoJQ

— Tribune de Genève (@tdgch) March 4, 2020