The prestigious Oxford Union debating society has invited exiled Catalan president Carles Puigdemont to address its members at Oxford University, presenting him as the "head of the Catalonian resistance". The debating society's event is scheduled for May 28th, just two days after the European elections, when Puigdemont will have EU-wide parliamentary immunity if successful in winning a seat, according to lawyer Gonzalo Boye.
The Oxford Union is the oldest such debating society in the United Kingdom, alongside those of Cambridge and Saint Andrews, the university where fellow Catalan exile Clara Ponsatí is a professor. The Union's brief biography of "Carles Puigdemont, MP" for the speaker event recognizes that the Catalan politician is "living in exile" in Belgium. "He was removed from office by the Spanish government following the unilateral declaration of independence of Catalonia, which caused uproar and unrest across the region," it adds.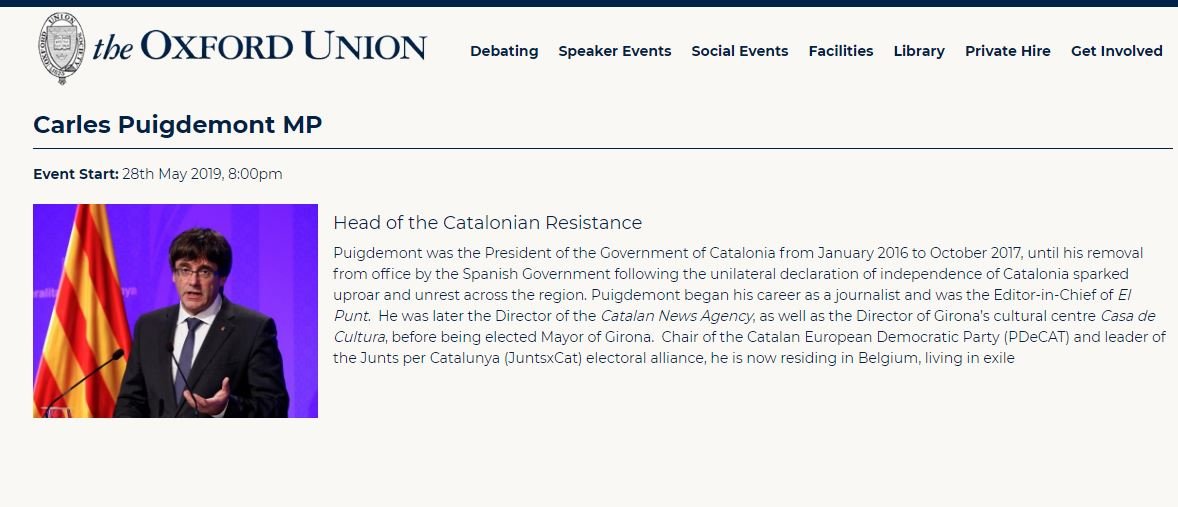 Spanish digital newspaper Voz Populi reports that the debating society's invitation to Puigdemont has caused annoyance in Spanish media, citing a so-called Forum of Professors.
The Oxford Union has a long tradition of inviting prominent world figures to take part in debates or address its members on topical or international issues. Ronald Reagan, the Dalai Lama, Mother Teresa, Elton John and Recep Tayyip Erdoğan are among the many who have spoken at the Union.