Two people suffered minor injuries in an air gun attack on Saturday morning in Barcelona while working at an election campaign stand for the pro-independence Together for Catalonia (JxCat) party. The incident took place in the city's Sant Martí district, at the junction of Avinguda Diagonal and Carrer Llull, where the two victims were giving out campaign material for the upcoming municipal and European elections, Mossos d'Esquadra police sources told ElNacional.cat. Three shots were fired: two of the round metal pellets hit the JxCat party workers, causing bruises, while the third pellet hit the canvas of the campaign tent.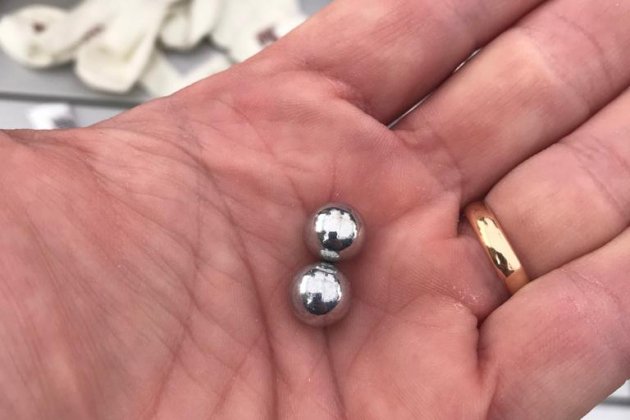 The two people were hit by the air gun pellets, fired by an unknown person, while they were standing in the party tent. Barcelona city police were first on the scene after the incident, but the Mossos d'Esquadra subsequently took charge of the investigation when they arrived.
Similar attack a few weeks ago
Although the inquiries into the attack are just beginning, a police source has told ElNacional.cat that they do not regard the incident as a political attack against Carles Puigdemont's party.
A few months ago, police were advised of a similar attack in the same area. On that occasion, the person responsible was not identified and the Mossos say that that now, with more information and the pellets retrieved today, they hope it will be possible for investigating officers to join the dots and locate the person who fired against the JxCat political campaigners.
The Mossos d'Esquadra regard it as "mischief" although they are maintaining the investigation open. The case has been put into the hands of the information brigade, the police unit specialized in the fight against radicalism and the extreme right.
"There are often shots here"
A resident of the Barcelona neighbourhood where the incident took place reported to ElNacional.cat that it was not the first time that air gun attacks have taken place in the Sant Martí area. According to this member of the community, a building on nearby Carrer Pujades has received several shots, on several occasions, carried out with an air rifle, causing damage to several windows.
The resident complained that, although the Mossos are aware there are often similar attacks in this area, they have done nothing to combat them. "Because the pellets do not go through the glass, the Mossos tell us that nothing can be done, as the trajectory of the bullet cannot be discovered."
The person, who preferred not to be named in the media, explained that there are pro-independence estelada flags hung on the exterior of the Carrer Pujades building that was subject to the earlier attacks, and as a result, many residents had decided to remove their flags.