There is growing alarm in the EU about the confused state of the Spanish judiciary, especially the inability of the two major political parties, the PSOE and the PP, to break the long-running deadlock on appointments to the senior judicial organs, in which many positions have expired, as well as a similar situation in the Constitutional Court. The Frankfurter Allgemeine newspaper, considered the most important in Germany, has openly warned that "Brussels' impatience is growing" due to this state of affairs.
"The deadlock in Madrid has not been resolved for three years. And little by little, impatience is growing in Brussels, although the European Commission seeks to be outwardly diplomatic." The Spanish judicial system has some challenges ahead," the newspaper notes, quoting the latest report on the rule of law in EU member states of the union, which criticizes "the lack of unity in the Spanish Congress", as Frankfurter says.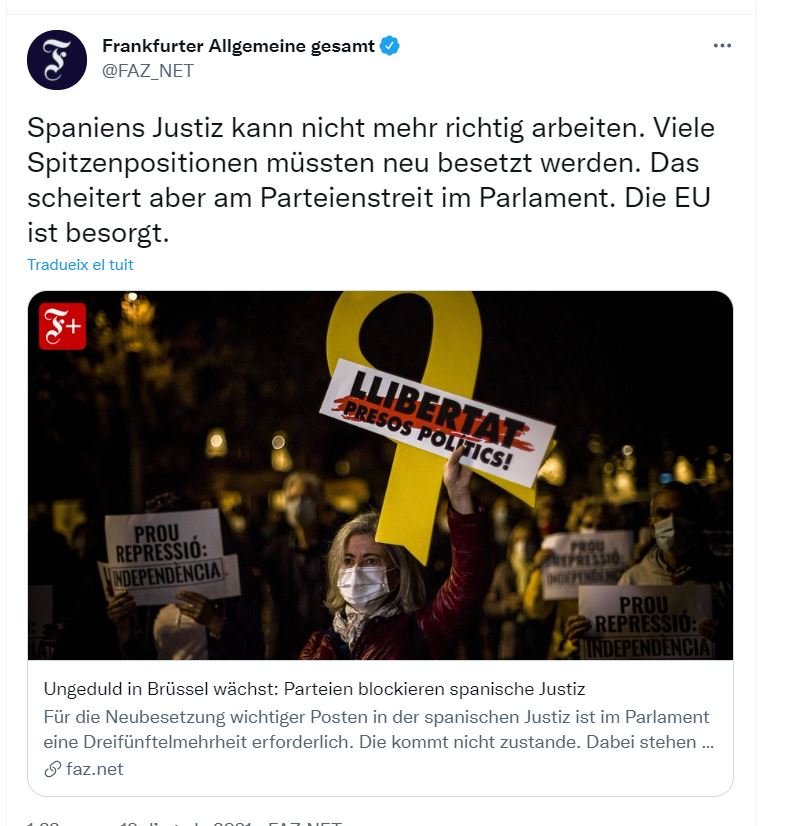 According to the German daily, the dispute between the Socialists and the PP is "paralyzing the Spanish courts more and more, since they are having to make many important decisions at the moment." The newspaper notes that the Spanish judiciary must address the issues of coronavirus, Catalan independence and cases of corruption, while also battling with its own turmoil.
"The mandate of the most important judicial body in Spain, the General Council of the Judiciary (CGPJ) expired in 2018. The Constitutional Court also contains more and more judges who remain in office despite having ended their terms," the story underlines.
In Spain, a three-fifths majority of Congress is needed to make decisions on key positions in the judiciary, but the mutual boycott between the PSOE and the PP has prevented this.
In July, the European Commission already urged Spain to renew the General Council of the Judiciary. The European organ considers this to be one of the main challenges it must face "within the framework of the rule of law". At the same time, Brussels is calling for this renewal to be the choice of the judges in order to conform to European standards.    
The European Commission is thus reiterating the conclusions it had already indicated in a report made in September 2020, which pointed out the urgency of the renewal of the judicial council and, at the same time, expressed its concern about the independence of the prosecution service, which depends on the government.