Leading German newspaper Frankfurter Allgemeine has published a report entitled 'The only wise decision', in which it tries to convince the Schleswig-Holstein court to discard the arguments of the defence and go ahead with the extradition of Catalan president in exile, Carles Puigdemont. The newspaper argues for the handing over of Puigdemont to Spain for diplomatic motives.
"The call made by chancellor [Angela Merkel] for European solidarity could be damaged in the near future by the German judicial powers", says the report, referring to the migration crisis and the decision of the Schleswig-Holstein Court.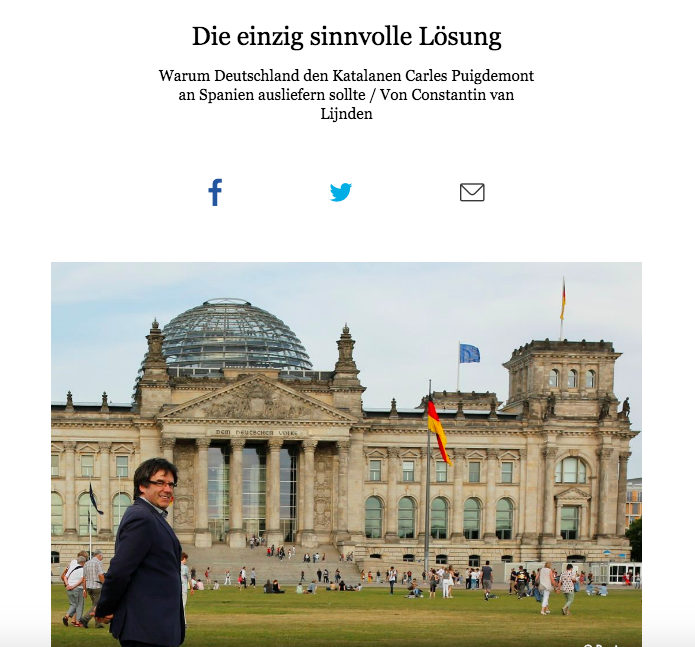 The Frankfurt daily then argues that Spain is governed under a fully-democratic rule of law, and that its separation of powers is fully respected, coinciding with the line maintained by the Spanish government. "A refusal to extradite those accused of crimes could be understandable in the case of Romania or Hungary, where prisoners are held in disgraceful conditions, or also in the case of Poland, where there has been direct intervention by the government in judicial power. However, no-one has put democracy in Spain in any doubt yet. Its balance at the European Court of Human Rights is even better than that of Germany," claims the report.
The article argues that the Schleswig court should not get involved in the content of the offences that Spanish justice attributes to Puigdemont, in line with another of the requests that the Spanish government has repeatedly made. It also affirms that the incidents that occurred at a protest at Frankfurt Airport cannot be compared with those of the Catalan independence referendum on 1st October, a comparison which the German court used in its appraisal that no rebellion had taken place.
The Frankfurter even goes as far as making insinuations about the maturity of the Schleswig court. "That these subtleties may have got lost in the whirlwind of enthusiasm for the brave measures taken by German judicial power to favour a supposed freedom fighter is normal and is in the nature of social debate", it states. 
The newspaper ends by arguing that the judges must not feel obliged to affirm their initial decision, which excluded the extradition of Puigdemont for rebellion and questioned the grounds of misuse of public funds. Instead, the court should reconsider, says the German daily. "Extraditing Puigdemont on all the charges and leaving the investigation in the hands of Spanish judicial power would be legally proper, and would be the only wise solution politically and diplomatically", it concludes.