Britain's most influential business newspaper, the Financial Times, has levelled harsh criticism against Spain's current political deadlock, classifying Spain as one of the "more ungovernable" countries in Europe, with a system that is "fractured". "After 40 years of political stability, Spain has become one of Europe's more ungovernable countries. Politics has fragmented between the established parties and their upstart rivals," says the FT.
According to the UK daily, acting prime minister Pedro Sánchez "hopes to return to the old bipartisan system" through winning an increase in support for his Socialist (PSOE) party at the November 10 elections, after he "failed to form a stable government" with the 123 seats obtained in the previous elections, in April. The Financial Times, however, questions whether the PSOE leader's "gamble" will pay off and warns of the danger that "the political paralysis he seeks to end could instead be reinforced."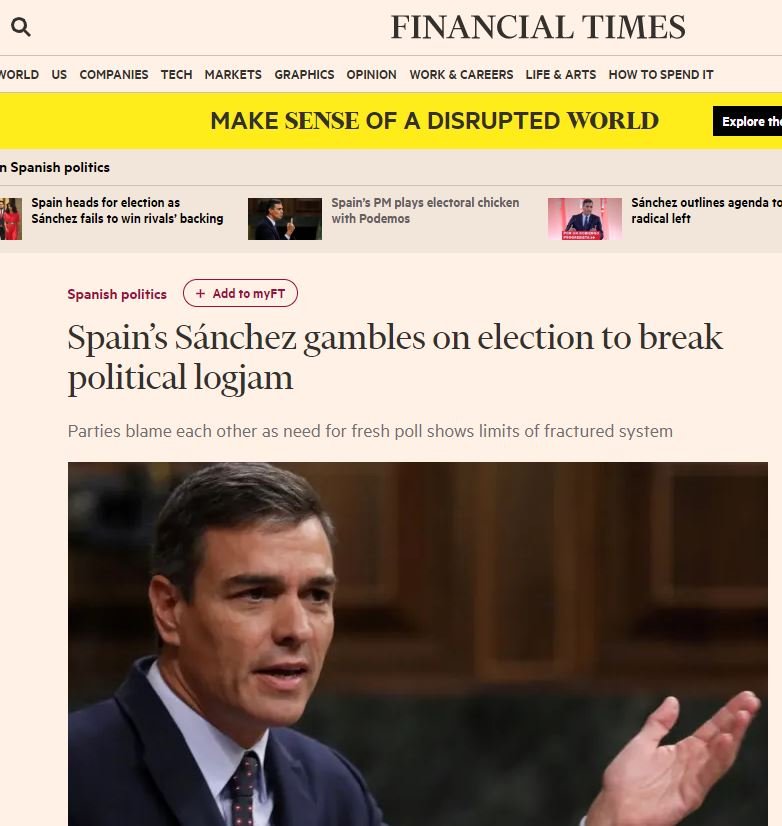 The newspaper speaks of the failure to resolve the conflict between Catalonia and the state as one of the key factors in the current scenario, as well as the importance of the new parties, Podemos and Ciudadanos, which emerged during the long economic crisis. The FT article notes the major impact which is likely when the Supreme Court releases its verdict on the 2017 pro-independence leaders facing rebellion and sedition charges. "In the past, it was Catalan votes that helped shore up minority governments led by the two big parties. But now the Catalan question is the most polarising question in Spanish politics and there is no prospect of such support in parliament," it says.
The influential British daily also recalls that the call for a "firm response" to the Catalan independence movement has turned into the "rallying cry" of the Spanish right, and asserts that this could also impact the political mood when the court sentences are announced and a Catalan reaction occurs.