The extreme right party Vox has published a Tweet which names and threatens the chairperson of the media group RBA, publisher of the Spanish satirical magazine El Jueves. The tweet, featuring a photo of the publishing group's head, Ricardo Rodrigo Amar, claims that his publication "spreads hatred against millions of Spaniards every day", and asserts that it is "possible" that many of them "will start demanding responsibility when they see him leave his office on Barcelona's Diagonal".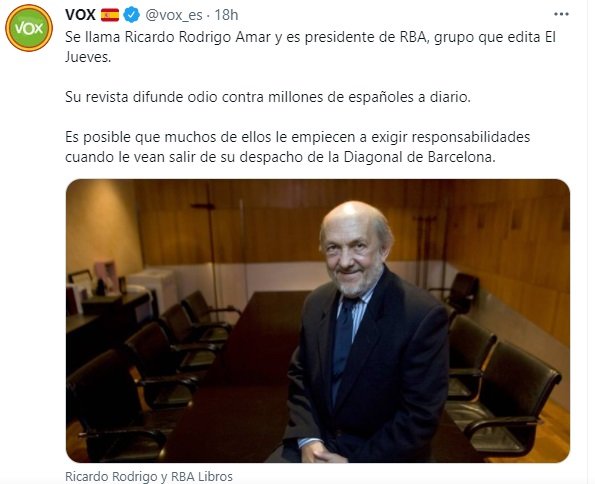 The Vox message on social media follows a tweet by El Jueves previewing its latest issue, which includes a series of caricatures of leading members of the far-right party entitled "The Voxura gang".
The federation of Spanish journalists' associations, FAPE, has categorically condemned what it calls "finger-pointing [of the El Jueves publisher] by Vox aimed at intimidation".
In a statement, FAPE notes that the tweet publishes the name and surname of the publisher, his photograph and the location of his office. "Pointing a finger at a publisher with his name, surname, his photo and work address and, moreover, implicitly requesting that he be held accountable on the street is a clear incitement to hatred," it states.
The organization recalls that intimidation of journalists and editors "is a serious attack on the free exercise of journalism." "It seeks to limit freedom of expression, which includes criticism and satire, and the right to information of citizens, fundamental pillars of our democratic system," says FAPE, stressing that "any attack on these rights is an intolerable attempt to weaken democracy."
Likewise, Reporters Without Borders denounced in a message on Twitter that "Vox goes beyond all limits with this message. Not only the ethical ones, which it has been ignoring for a long time, but the legal ones. It will find us on the other side."
The Catalonia Journalists Association has also joined the condemnation right across the media sector, expressing its support for El Jueves. "As advocates of free speech and the press, we do not tolerate red lines being crossed. We reject threats against media, publishers or journalists," the association tweeted.
The El Jueves response
El Jueves responded with gratitude to the support generated on social media, with another tweet in which the satirical magazine gave "infinite thanks" and added, "The next time we have a trial, we'll call you all witnesses."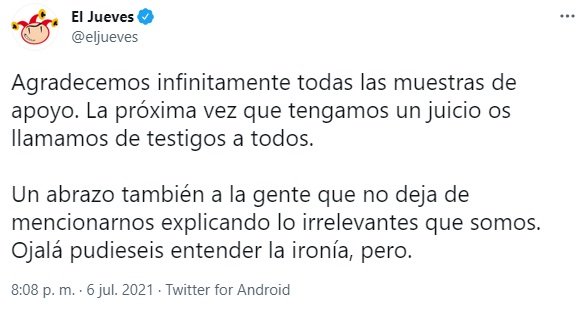 And it added: "Also, a hug to the people who keep on mentioning us explaining how irrelevant we are. But if only you could understand the irony."

Another Spanish satirical pubication, the digital media El Mundo Today also abandoned its usual style to issue a plain-speaking press statement on the issue. On Twitter, the media stated that Vox's "threat" aims to "intimidate" the freedom of expression of "publishers, media owners, humorists, artists, and definitively, anybody". An action that marks a "red line that is neither legally nor ethically tolerable."