The European Super League is not just about playing football, it is also about politics. This morning the Spanish government made it clear in a statement that it does not support the initiative, and the minister for sport, José Manuel Rodríguez Uribes, warned of a possible "collision" while the foreign affairs minister, Arancha González Laya, noted that football is much more than a game and has an "identity" component for many people.
The president of the Spanish Football League, Javier Tebas, said bluntly that it was "secessionist and elitist" of the clubs to create a competition that goes beyond the Spanish state - an argument that has been used before in other fields.
Disconnection
In Catalonia there has been no public reaction from the Catalan government, although among the founding clubs of the Super League is FC Barcelona, ​​and the most political commentary on the news came from the Catalan minister for digital policies, Jordi Puigneró, who considered this initiative as another way of disconnecting from the Spanish mental framework. According to the minister, the prospect of "getting out of the mental framework of the 'Spanish league' concept" was an aspect he was very much in favour of.
Puigneró responded in social media to comments made in opposition to the project and defended the freedom of association of clubs to play in the league they consider most suitable, which he saw as "a basic principle of liberal democracy" .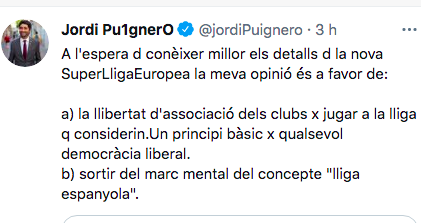 The president of Real Madrid, Florentino Pérez, will be the first president of the Superliga, as announced in the statement launching the project.
The European Super League, which already has twelve founding clubs that have gone public on the new plan in the last 24 hours, will replace the Champions League and will be played on weekdays, ensuring that it will not conflict with national leagues, according to its promoters.
However, not only the major European leagues and UEFA have spoken out against the initiative, but also French president Emmanuel Macron, British prime minister Boris Johnson, as well as the European Commission vice president Margaritis Schinas, among others.
In the main image, pro-independence estelada flags at the Camp Nou / Europa Press