A return to work to break the routine. It seems all mixed up, but it is the reality that Catalan pro-independence leader Jordi Cuixart has experienced today, when after 850 nights behind bars he has enjoyed his first day of regular work leave - to undertake work and voluntary activities outside the prison. Nine and a half hours during which he began to return to the day-to-day routine at his company, Aranow Packaging Machinery, which he founded in 2003 and which makes specialist machinery for packaging products.
At eight in the morning, after the morning roll call of inmates, the gate of Lledoners prison opened for the president of the Catalan cultural group Òmnium. He left without police accompaniment, as determined by article 100.2 of the prison regulations, under which he obtained this leave. Waiting for him outside in a blue Seat, a work colleague, who drove him to the industrial estate at Sentmenat, on the outskirts of Barcelona. The journey took about an hour. Shortly after nine o'clock, another metal gate opened, this one the entrance to the factory. Behind it, the company's workers were waiting nervously for the arrival of their director.
Under a radiant sun, Cuixart got out of the car decisively, put on his jacket and burst into a smile that would no longer be erased. He raised his arms, in the style of footballers as they leave the field to applause of the public: "Good morning family!" Long, heartfelt hugs followed with all his workmates. The first, his partner. Deft with his words, the pro-independence leader had a message he wanted to give. Short, emotional, energetic.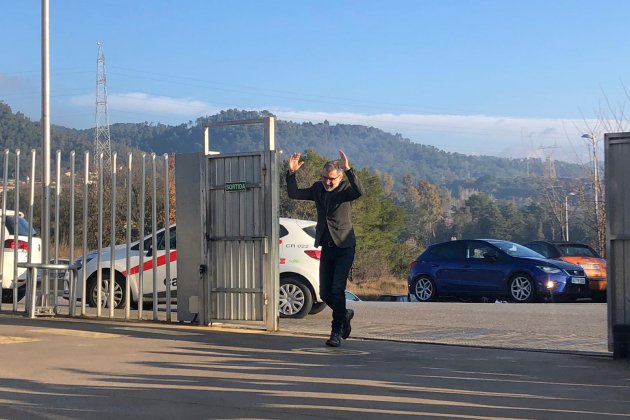 Nine and a half hours of freedom
"I said I'd come back and we've come back." That's how Jordi Cuixart started his first public discourse in the open air for a very long time. He thanked the workers for the "hard work" they had put into the business for the two years and three months he has been in prison. Aware, of course, that he would return to prison later that night, he pledged to "keep fighting to keep the business going, and also working for freedom and an amnesty." As a responsible boss, he concluded with: "Okay, now: everybody inside to make machines!"
Content de tornar a la fàbrica: compromís empresarial, social i democràtic. Però cada dia dormim a la presó i la lluita continua.
Us estimo! pic.twitter.com/NnWjf0etM9

— Jordi Cuixart (@jcuixart) February 13, 2020
Translation:
"Content to return to the factory: business, social and democratic commitment. But every day we return to the prison to sleep and the fight goes on. I love you all!" — Jordi Cuixart
He was at the factory until two in the afternoon. After lunch, he was taken by car to a social assistance organization dedicated to people at risk of social exclusion (which has asked not to be named). There he completed his new daily regime spending around two hours in volunteer work. A total of nine and a half hours of freedom.
At eight o'clock in the evening, at Lledoners the prison guards make the last roll-call of inmates for the day. For one more night, they will register Cuixart as present. From now on, the Omnium leader will repeat this routine every day from Monday to Friday. From prison cell to factory, there and back.