British human rights lawyer Ben Emmerson has warned that Monday's court decision to give heavy jail sentences to Catalan pro-independence leaders places Spain on a "collision course with the United Nations, the international community and the international rule of law." "It is a dark day for democracy in Spain," said Emmerson, who is part of the legal team which presented the Catalan political prisoners' case to the UN Working Group on Arbitrary Detentions. The UN Working Group concluded that the Catalan pro-independence leaders who were part of the case (seven of those now convicted for sedition) were wrongfully held in custody and called for their immediate release, but Spain ignored the UN ruling.
Emmerson warned in a statement that the decision taken by Spain's Supreme Court, "torpedoes the possibility of a peaceful resolution of the political crisis in Catalonia" He said the court had "quite deliberately dropped an incendiary device into a tinder box". For this reason, he considers it vital for all parties to remain calm, and redouble their efforts for a negotiated solution, before the situation "spirals out of control".
The British lawyer says that the debate has now gone well beyond the question of independence: "It's about whether Spain remains committed to the European model of democracy. This is a truly chilling decision for European democracy as a whole, which will reverberate throughout the continent."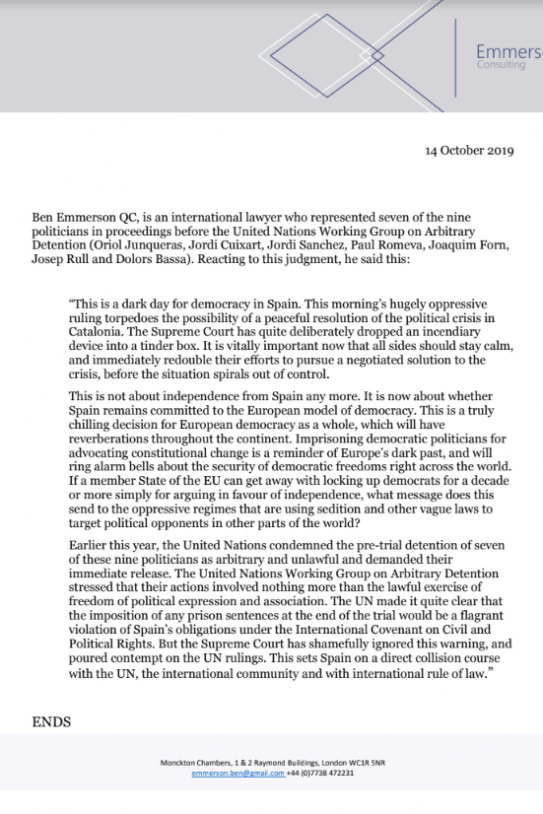 Emmerson added, sharing his declarations on Twitter, that he believes the case has a significance that goes far beyond Europe: "If an EU Member State can get away with locking up democrats" on this basis, he asked, "what message does this send to oppressive regimes elsewhere in the world?" 
If a Member State of the EU can get away with locking up democrats, what message does this send to oppressive regimes that use sedition and other vague charges to target political opponents in other parts of the world?

— Ben Emmerson 🎗️ (@BenEmmerson1) October 14, 2019
The lawyer also used Twitter to share the comments made by prominent British left-wing activist Owen Jones in response to the Supreme Court verdicts: that a "supposedly democratic European state locking up political dissidents" was "grotesque". Emmerson expressed his relief that "finally" someone close to the main UK political parties had become aware of the broader "democratic" implications of the issue.
Finally. Someone close to one of the UK's two main political parties has woken up to what's happening in Catalonia and is expressing some shock about it. Until now, only the SNP has been ringing the alarm. But this isn't a party political issue. It concerns all democrats. https://t.co/ieIWs8Z2Pb

— Ben Emmerson 🎗️ (@BenEmmerson1) October 14, 2019