All 36 of the Ciudadanos party's Catalan deputies paid a visit this Saturday to the village of Amer, the hometown of exiled Catalan president Carles Puigdemont. In a curious piece of political theatre, all the parliamentary representatives of the main Catalan opposition party spent close to an hour strolling round the village, in Girona province.
The visit had two focuses: firstly, the removal of yellow ribbons which are on display around the village, as elsewhere in Catalonia, in solidarity with the imprisoned and exiled Catalan pro-independence leaders. As the Ciudadanos group removed the ribbons, Amer residents immediately replaced them with new ones. Secondly, the visiting political group also held a press conference in the main village square, under the watchful eyes of the large banner featuring Carles Puigdemont's face, accompanied by the slogan "No surrender" (in English).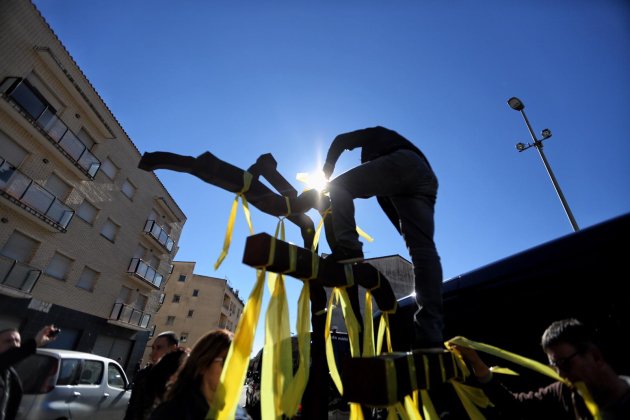 ​
The reaction from most of the locals was to ignore the visitors. The group of Cs deputies, headed by the party's Catalan leader Inés Arrimadas, had the village square almost entirely to themselves. The shops in the square had closed a little before 12 noon and once Arrimadas ended her statements to the media, they reopened. Even CDR protest groups which said they had planned to hold a butifarrada or sausage sizzle, at around the same time, ended up cancelling it in protest.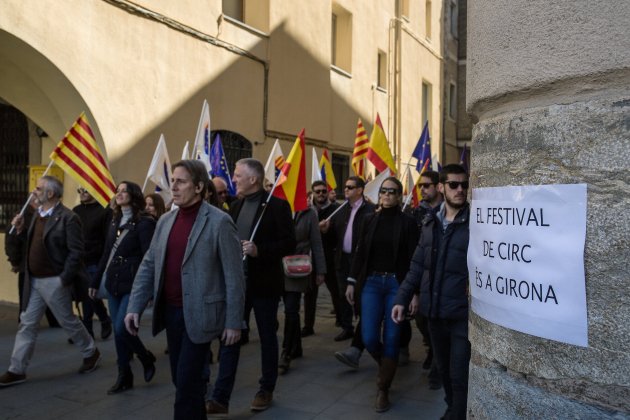 Despite the peaceful response from the villagers of Amer, the Catalan Mossos d'Esquadra police had a riot squad at the ready, with a police van parked in the village square and several officers stationed in nearby streets. Moments before the press conference, residents came out on to their balconies and sustained a loud chant of "Puigdemont, President".
Arrimadas va a #Amer a fer el numeret. Només troba premsa i tot el poble tancat. Els veins i veines, des dels balcons, crida unànimament "Puigdemont President".

Ficció unionista vs realitat catalana.

Vídeo: @grabapsa pic.twitter.com/i5VDvSJtD1

—

Aleix

Clarió

👨‍💻🎗

(@

aleixclario

) 16

de

febrer

de

2019
Translation:
Arrimadas comes to #Amer to do a number. All she finds is the press and the whole town closed. All together, residents chant "Puigdemont President" from the balconies. Unionist fiction vs. Catalan reality.— Aleix Clarió
Inés Arrimadas complained to the media about how pro-independence symbols had "invaded" the streets of Amer and other Catalan towns.
#PutaEspanya #Amer pic.twitter.com/wT9vCM9FiC

— Xavier

Queraltó

(@

Karallot96

) 16

de

febrer

de

2019
However, as a post-script, shortly after the Cs parliamentary team had left, locals discovered that graffiti had been sprayed on a building in the village's Plaça del Monestir. Beginning with today's date (16/02/2019) the graffiti reads "The politeness and respect of Amer has been demonstrated", accompanied by a large "Long live Spain." 
Això no sortirà a les notícies, a Amer els de @CiutadansCs fent pintades i tot... @324cat @tv3cat #Amer pic.twitter.com/slxPkS65lP

— GGarriga 🌐 (@GerardGarriga) 16 de febrer de 2019
Translation:
This won't appear in the news, that at Amer those from Ciudadanos were even spraying graffiti.— GGarriga