Why did they announce it now? This is one of the questions being asked today at Citizen Lab, the Canadian research institution that brought the Catalangate affair to light. Hours after the Spanish government announced that the prime minister, Pedro Sanchez, and defence minister, Margarita Robles, had themselves been the victims of espionage with Pegasus spyware, Citizen Lab began to raise questions. They were voiced on Twitter by John Scott-Railton, a senior researcher behind the investigation which revealed that at least 65 people close to the Catalan independence movement had been spied on via their cellphones and devices. "Why are they communicating it today? What technical analysis backs their finds? When did they discover the infections? What led them to investigate? Are there other victims? Who else will be checked?" These are the questions he himself made public on Monday on social media.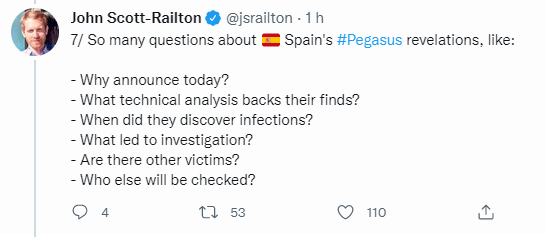 Scott-Railton, one of the eight authors of the CatalanGate research, also called on Spain to launch a "comprehensive investigation" into Pegasus in order to have a full picture of everything that has happened. He also warned that investigating "mercenary spyware" like this "is hard". Another big question at Citizen Lab is who allegedly spied on these two key Spanish government figures. According to Scott-Railton, the Spanish state is using "interesting language", noting that the government says the espionage comes from a source that is "external", at least in the sense that it was "not officially done by any Spanish state agency" as well as the fact that it had no judicial authorization.
In addition, the Citizen Lab researcher was critical of the Spanish government's handling of Catalangate since the espionage against the pro-independence leaders was made public. He criticized minister Robles for going as far as to say she didn't know The New Yorker and her doubting of the sources which the medium worked with in its report. Scott-Railton referred to the evolution of Spain's response to the revelations as "interesting": "After denials, smears & trolling it had just arrived at the rationalization / justification stage. Then today's bombshell dropped." Thus, the researcher is also ironic about the response of the Spanish state today, when it was announced that the prime minister and defence head had also been spied on: "Remarkable timing."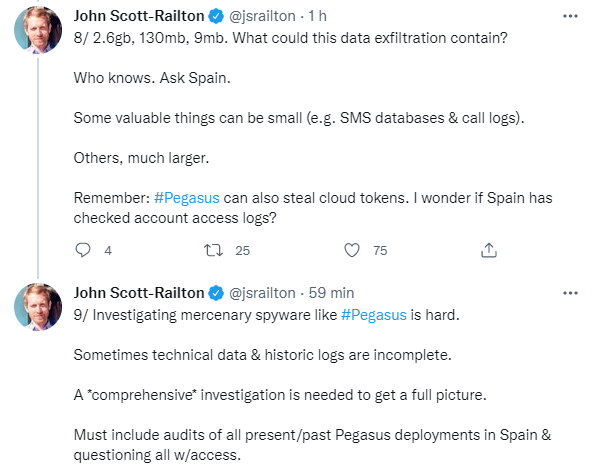 Espionage against Sánchez and Robles
Two technical reports from Spain's National Cryptological Centre have confirmed that the cellphones of Spanish prime minister Pedro Sanchez and defence minister Margarita Robles were also infected with Pegasus software. As minister Félix Bolaños said at an emergency press conference on Monday morning, these are "unequivocal" facts that have already been subject to a complaint to the National Audience court.