In a speech before the Spanish king this Monday night, the Catalan president Pere Aragonès has demanded a referendum for Catalonia like the one that was held in Scotland in 2014. He did so before an audience essentially from the financial sector, as part of the awarding of medals of honour to commemorate the 250th anniversary of employers' association Foment del Treball - and in the midst of the usual institutional frigidity that dominates the visits to Catalonia by Spanish monarch Felipe VI.
In his own speech, Felipe VI defended the need for a strong and cohesive society. After the "tough tests of the last decades", including the 2008 crisis and the Covid pandemic, the monarch warned that it is essential to strengthen the framework of stability, certainty and confidence demanded by developed economies. Without mentioning at any time the tension between Catalonia and Spain which resulted from the 2017 independence referendum and Spain's subsequent direct rule over Catalonia, Felipe VI said that the stable context is possible thanks to "a legal certainty" that will offer certainty for investment.
As in Scotland, so in Catalonia
Speaking prior to the monarch, Aragonés also made a speech with an economic starting point, as he demanded self-esteem - "which must go beyond sterile self-flagellation" - and made to call to take advantage of the opportunities that the new Catalan government budget and the EU Next Generation projects will bring - for which he demanded self-management by the Catalan authorities.
However, his message before the king carried a strong political charge. He defended the need to resume the negotiation process between the governments of Catalonia and Spain to resolve the political conflict, each from its legitimate position, but again asserting Catalonia's clear commitment to an amnesty and the right to self-determination as a solution.
"We can enter into a negotiation process by making it possible that what can be done in Scotland, is possible in Catalonia," he affirmed, stressing the need for the dialogue table negotiations to continue. "Understanding that stability is a necessary condition, but it is not synonymous with immobility," he stressed.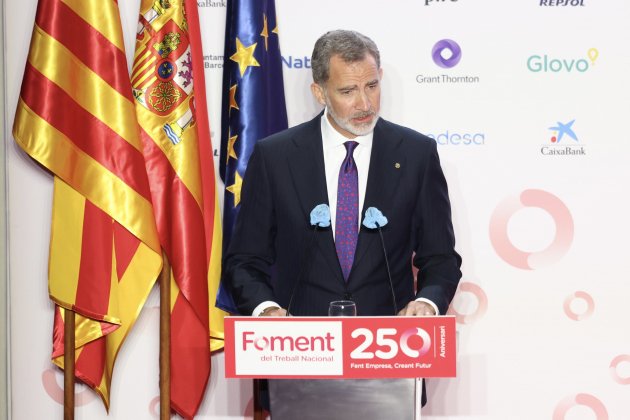 Torrent and Artadi attend the event
Institutional coldness dominated the event. As usual, the Catalan president avoided the formal greeting ceremony with which the monarch was received in the MNAC building in Barcelona where the awards ceremony was held. The mayor of the city, ​​Ada Colau, also went directly to the dinner table and avoided the family photo. Both entered through the authorities' entrance and, after skipping the official reception, greeted the king, touching clenched fists in a Covid greeting, as the Spanish head of state was heading to the Oval Room where the dinner was held.
Aragonés was accompanied by his enterprise minister and ERC party colleague Roger Torrent. Absent was the economy minister, Jaume Giró (Junts), who declined the invitation, but it was the spokesperson for Junts, Elsa Artadi, who shared a table with Carlos Carrizosa of Cs and David Bonvehí of PDeCAT.