The Taliban victory in Afghanistan has sharply jolted international politics and public opinion. Among the reactions from politicians all around the world, Catalan leaders have also spoken out. President Pere Aragonès has expressed concern about the "backward step for rights and freedoms" that "Taliban fundamentalism" entails and that "severely affects the civilian population, especially women and girls."
Faced with the humanitarian crisis that is already taking place in Kabul and the rest of the country, Aragonès has opened the doors of Catalonia to put itself "at the disposal of the international community to assume our humanitarian commitment." "Catalonia will always be a land of welcome and freedom," he added on Twitter.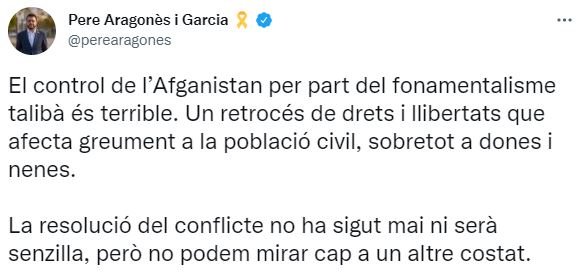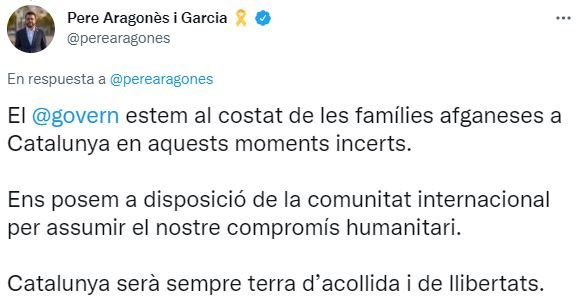 Meanwhile, the speaker of the Catalan Parliament, Laura Borràs, has published a statement "in defence of the women and citizens of Afghanistan", in which she denounced the passive response of the international community in the face of the offensive of a movement (.. .) which has been characterized by a completely unacceptable misogyny".
"That is why I call on international organizations such as the European Union, the United Nations and NATO to act decisively in defence of the Afghan citizens who are victims of this war process and, in an even more resolute way, not to forget Afghan women", she said.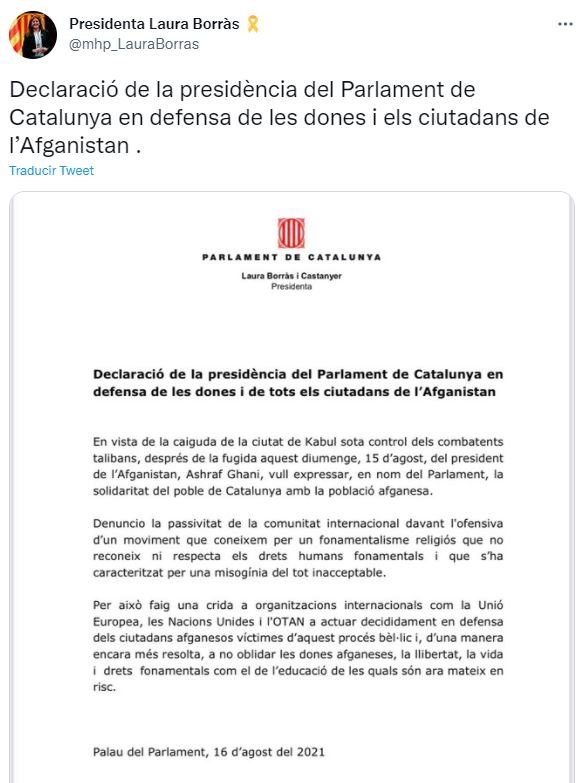 In addition, the Catalan executive's foreign affairs minister, Victòria Alsina, has declared that "the world CANNOT turn its back on Afghan society", adding that it is necessary to defend human rights in Afghanistan "especially those of women". She also offered "all possible collaboration" from the government "in the face of this humanitarian crisis."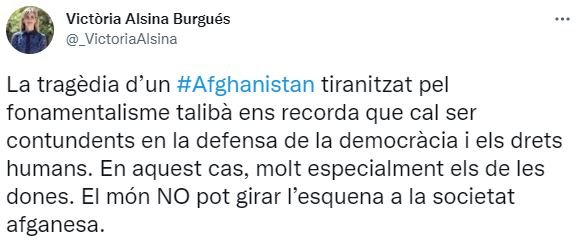 The minister for equality and feminism, Tania Verge, was another who gave a strong message, demanding that "the EU and Spain comply with the obligation to provide international protection to refugees from Afghanistan", and affirmed that to achieve peace, it must be created: "Until we understand that to have peace, it must be built, we will continue to have humanitarian crises." The official profile of her ministry has sent a message of support to Afghan women and girls, who are "persecuted, repressed and punished for being women."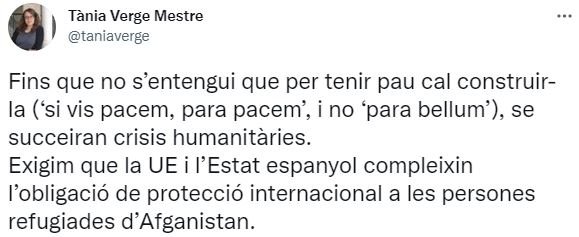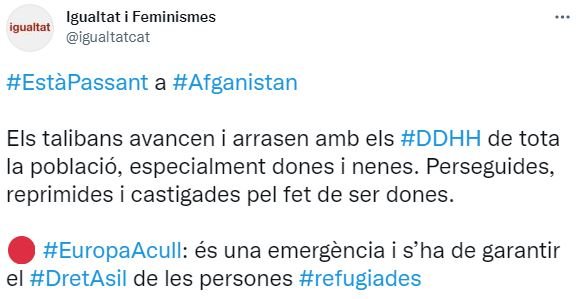 Catalan president in exile and MEP Carles Puigdemont has announced that he will ask the European Commission and the European Parliament to play "an active role in this crisis". "The Taliban threat to basic rights (...) is a threat to all of us," he stated.
Finally, another former Catalan president, Quim Torra, has expressed the need for "Catalonia to give its full support to Afghans in situations of serious danger and vulnerability." "We need to offer all the collaboration and do everything we can in the face of this tragedy," he added on Twitter.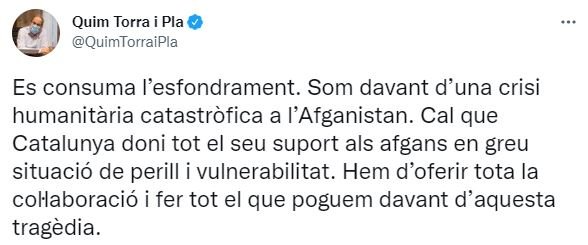 All these politicians, along with many others, share the need for the international community to act in Afghanistan and have opened the doors of Catalonia to assist in a probable humanitarian and migration crisis.