The Catalan independence movement has taken to the streets again urgently following the arrest of the president in exile, Carles Puigdemont, on his arrival in the Sardinian city of L'Alguer (Alghero in Italian). Hundreds of people responded to the call from the Catalan National Assembly (ANC) and other groups, demonstrating in front of the Italian consulate in Barcelona.
But it is not only the grass roots that have mobilized: all the Catalan government ministers of the Junts party and members of the other pro-independence parties ERC and the CUP, such as Alba Vergés, Ernest Maragall, Carles Riera and Dolors Sabater, as well as the president of Òmnium, Jordi Cuixart, and ANC president Elisenda Paluzie also attended the protest.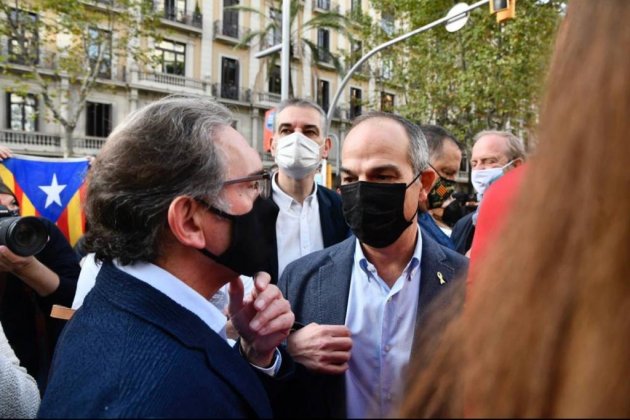 Hours earlier, the Mossos police had barricaded all access to the consulate, which is why the demonstration took place on Avinguda Diagonal, a few blocks from the building.
The demonstration took place in a completely normal way and with an atmosphere of reclaming justice. Some protesters also wanted to express their displeasure with pro-independence politicians with banners calling for independence or resignation or calling them, directly, "traitors." However, the unanimous cry and the one that gained consensus support among all those present was "Puigdemont, our president".
"Europe has political prisoners" 
In a statement to the media, the vice president of the Catalan government, Jordi Puigneró, denounced that "Europe has political prisoners" and demanded the release of Puigdemont. "We have already warned that we were very skeptical of the dialogue table and we see how time is showing that we were right," he added in reference to the resumption of negotiations with the Spanish state.
The speaker of parliament, Laura Borràs, stated that she hopes that Italy will respect the European courts and that, at the same time, the Spanish state will respect Puigdemont's "parliamentary inviolability".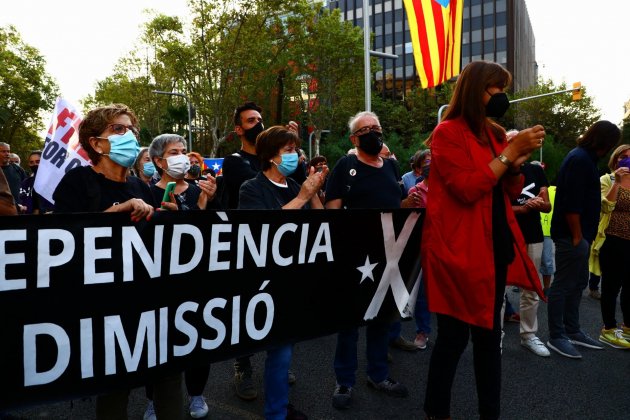 Borràs also lamented that the protest could not take place right outside the doors of the Italian consulate, in Carrer Aribau in Barcelona, because there is a Mossos operation to protect it. "Barcelona is a city in which we have always been able to exercise right to protest. Catalonia is a country of rights and we hope to be able to continue to do so," she added.
MP for the CUP Dolors Sabater described the arrest as "nonsense" and warned that the Spanish state did not intend to negotiate.
Paluzie denounced the persecution of the Catalan president in exile and called for "maximum mobilization." Jordi Cuixart called the arrest "incomprehensible" and called for an end to the repression. He also warned that they are protesting because "you defend your rights by defended by exercising them".