"Adri's come home!" With that joyful exclamation and hugs from his friends and supporters, the long ordeal of Catalan independence supporter Adrià Carrasco is over. There is no arrest warrant hanging over him and the young CDR activist has returned to his village after almost three years of exile in Brussels. From accusations of terrorism - to nothing.
A court in the Catalan city of Granollers, to which the case was finally assigned, threw it out. Although a prosecution appeal is still possible, the judicial investigation withdrew its order to summons and arrest the young man, and with that done, the police no longer have grounds for arresting Adrià Carrasco when he enters the Spanish state.
The judge stated that he was rejecting the case because "there is no evidence" for the alleged crime.
And thus it was Adrià Carrasco himself who announced this at a press conference held today outside the Catalan High Court in Barcelona, where he denounced that the right to self-determination "is not a crime, it is a right". Carrasco demanded a "total amnesty" and "guarantees for the free return of political exiles, and the self-determination of peoples." "We demand the closure of all legal proceedings opened for political and social reasons," he stated.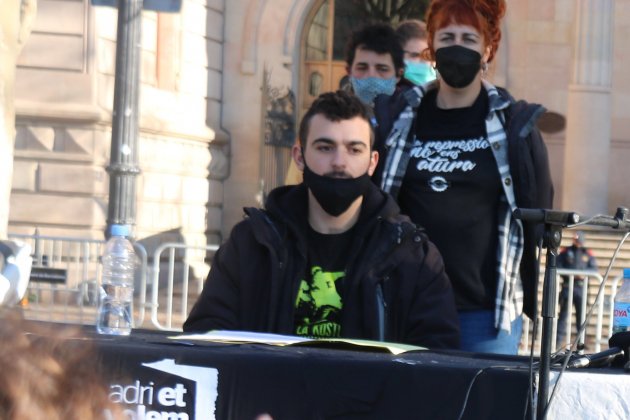 The press conference held by the activist and his support group denounced the policies of repression and the complete falsification of his entire case, in which Adrià Carrasco was accused of an offence of terrorism and, indeed, of being a leader of an alleged terrorist group, along with his namesake, Tamara Carrasco, to whom he is not related.
Adrià Carrasco fled from his home on the night of April 10th, 2018 when heavily-armed and balaclava-clad Civil Guard officers turned up there as part of an anti-terrorist operation ordered by the National Audience court. Adrià Carrasco, like Tamara Carrasco, was accused of terrorism, sedition and public disorder.
They were both members of separate pro-independence CDR activist groups (Committees for the Defence of the Republic). Over 2018 and 2019, CDR groups and their members were accused by Spanish police, judges, politicians and media of terrorist offences, with a number of spectacular arrest and raid operations being carried out - none of the charges have been substantiated and most have been dropped altogether by the courts. Tamara Carrasco was found not guilty of the last remaining charge against her in October 2020.
"I don't believe in justice"
"Don't talk about justice. I don't believe in justice," said Adrià Carrasco in the message he gave at his appearance today.
His case has passed through 10 different courts before ending up in Granollers, in a lowly court of first instance. Spain's National Audience court in Madrid eventually dropped the terrorism charge and reduced the accusation to one of public disorder, eight months after the April 2018 police operation, but it did not withdraw the arrest warrant. But not until the closing of the case in Granollers could Adrià Carrasco return home.
To justify the arrest and accusation, police presented all kinds of reports which Carrasco himself, through a letter read today by his support group, described as "a heap of rubbish to cover up the incompetence of the state". Adrià Carrasco said that he does not believe in justice and added: "With regard to terrorism, it does exist. Those who accuse you of it are those who exercise it".
"The strategy of fear doesn't work. On the contrary, it makes us stronger," asserted Adrià Carrasco in the letter read during the press conference. Addressing those who accused him, he said: "You yourselves are the victims, who are trapped by the hatred [you feel] for your own victims who think differently". His message also mentioned other "victims of police raids" who are in exile, such as the rapper Valtònyc and former CUP deputy Anna Gabriel.