The Belgian judiciary has rejected the extradition to Spain of exiled Catalan government minister Lluís Puig, on the grounds that the Spanish Supreme Court was not the competent authority to issue the European arrest warrant for the pro-independence politician.
"We were expecting many possible things today but frankly we were especially excited," said Puig in reaction to the court ruling. "The Supreme Court was [thus] not competent to sentence the Catalan government to 100 years in prison," he commented, calling for "this case to be stopped" as it "should not have begun."
[À LA UNE À MIDI] La justice belge a rejeté la demande d'extradition vers l'Espagne de l'indépendantiste catalan Lluis Puig, réclamé pour la tentative de sécession de 2017, a annoncé le parquet de Bruxelles #AFP (5/5) pic.twitter.com/fkZQbWGa1e

— Agence France-Presse (@afpfr) August 7, 2020
Translation:
"Belgian justice has rejected the request for extradition to Spain of the Catalan pro-independence politician Lluis Puig, demanded due to the 2017 attempt at secession, announced the Brussels public prosecutor's office"— Agence France-Presse
Puig, formerly Catalonia's minister of culture, recalled that the "injustice" of the case "had already been seen in Germany in 2018" - when a court in that country refused to extradite Catalan president Carles Puigdemont on the main charge presented by Spain, rebellion. "It is a case that [has led to] 100 years of imprisonment and many parliamentarians have called on Spain for it be stopped," he reiterated.
"The Spanish government, which has claimed that public prosecutors depend on the government, has in its hands the ability to initiate proceedings for an amnesty." And he concluded that "this trial is a disgrace." The minister also noted "we have never been on the run", in reference to those who assert that he and other pro-independence leaders "fled Spain" to avoid justice.
Alleged misuse of public funds
Spain's Supreme Court requested Puig's extradition for alleged misuse of public funds in the independence process case. Today's ruling was the first verdict by Belgian justice on the Catalan politicians exiled in October 2017; twice previously, arrest warrants presented in Belgium against the pro-independence leaders were withdrawn by Spain before they reached a decision.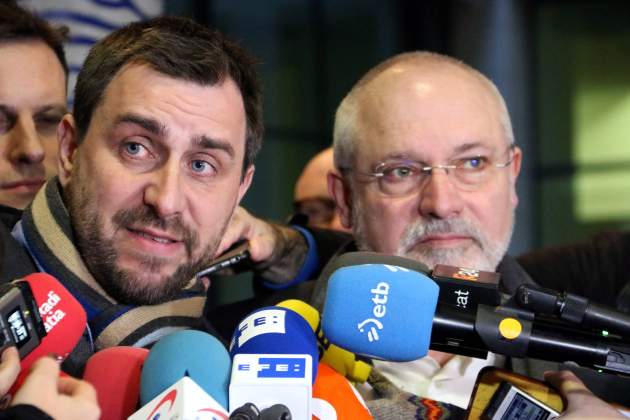 The European arrest warrant against Puig was reactivated by Supreme Court judge Pablo Llarena along with the extradition claims against president Puigdemont and former minister Toni Comín, following last year's verdict finding 12 pro-independence leaders guilty of sedition, disobedience and other offences for their participation in the independence process, and sentencing nine of them to long jail terms. 
The last hearing on Puig's extradition before the Belgian court of first instance took place on June 23rd, when his defence lawyer asked the judge to reject the extradition demanded by the Spanish authorities. In fact, lawyer Christophe Marchand argued then that the Supreme Court judge Pablo Llarena was no longer competent to file a European arrest warrant against Puig.
Belgian public prosecutors, who are also defending the Spanish request, later announced that they will appeal the decision by the Brussels Court of First Instance to reject the European order.
The cases of Puigdemont and Comín are taking a different route, since they are both now elected members of the European Parliament. The Parliament thus has to decide whether it will agree to Spain's request to suspend their immunity as MEPs in order to allow an extradition case against them to be heard.