There are already some similarities between Isabel Díaz Ayuso and the German far-right party. The latest example is the campaign slogan chosen by the acting president of the Community of Madrid for the Popular Party (PP) to win the next elections on May 4th: 'Socialism or freedom'. Following Pablo Iglesias' announcement that he will be Unidas-Podemos' candidate, Ayuso reacted by changing her slogan to 'Communism or freedom'. As it happens, the first slogan was also used by Alternative für Deutschland (AfD), Germany's xenophobic far-right party, for the federal elections in Thuringia, Saxony and Brandenburg in 2019.
Election results in the two eastern states, Saxony and Brandenburg, made the populist AfD the second political force. Germany's Conservatives and Social Democrats held on to first place by means of an agreement. AfD's rise was meteoric: 24.5% of the vote, well above the 8.8% it had won in the previous regional elections five years ago. To illustrate the similarities, we have collected some of the posters highlighting the same leitmotif as Ayuso's: 'Freiheit statt Sozialismus'.
AfD's programme is based on rejection of the euro, of bailouts in peripheral countries and the defence and return of the Deutschmark. They call for an orderly and gradual dismantling of the eurozone. They are against abortion and opposed to "the wave of immigrants coming to Germany". Their fight for German nationalism has placed this formation in the orbit of neo-Nazism.
Last week, the Ayuso-AfD connection came to the fore again. "Spain implements AfD policy", twitted the far-right party in Germany, attaching a photograph of a Madrid bar crowded outdoor sitting area where people sitting at the tables were not wearing face-masks. This image of president Isabel Díaz Ayuso's Madrid, is used as a reference by the Afd to motivate its electorate and show that elections next autumn will be possible.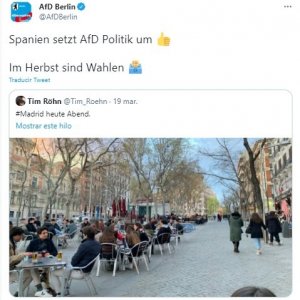 The far-right Alternative for Germany (AfD) has been under surveillance by the country's secret services since the beginning of March. It should be remembered that Germany does not tolerate right-wing extremism and has decided to tighten its grip on the ultra-nationalist and xenophobic organisation, which can now be closely monitored with all the tools of the state.
The German government has proposed that a general election be held on September 26th 2021. It will be an exceptional one, marked by the pandemic, but also because it will be the first election since 2005 in which Chancellor Angela Merkel will not stand.