The president of Catalonia, Pere Aragonès, has demanded that the Spanish government "commit itself" to defending language immersion in Catalonia. The day after the Supreme Court torpedoed the foundations of the linguistic model used in Catalan education, Aragonès reiterated that Catalonia's school system "cannot be called into question". The president warned Pedro Sánchez's executive that they cannot be complicit in the move to undermine the language's status. "It is essential that the Spanish state comes out in clear defence of the linguistic model and commits itself to supporting the broad consensus that exists in Catalonia," he reiterated.
Aragonès warned that the Supreme Court ruling "threatens the continuity" of the language model in schools and highlighted the Spanish government's responsibility in standing up for the model. As long as Catalonia is part of the state, the promotion, use and defence of Catalan "is also the responsibility" of the Spanish government, said Aragonès. "It's a language they have to protect," he affirmed.
A right and an obligation
In this context, Aragonès stressed that the Catalan government now has both "a right and an obligation" to demand from the Spanish executive a "clear defence" of the Catalan educational model, because it is "successful", as he reiterated. Thus, he urged Pedro Sánchez's government to show that the model that the Supreme Court ruling seeks to impose "is not theirs", and to act "accordingly". He added that the Catalan government will not delegate the responsibility that it has schools, and that he hopes the state "will not do so either."
The Catalan president's appeals to Sánchez follow Tuesday's announcement that the Supreme Court has not accepted the Catalan government's appeal against the judicial ruling obliging schools in Catalonia to teach 25% of their classes in Spanish. Catalan education minister Josep González-Cambray asserted that the Supreme Court has "exceeded its powers in taking a position on pedagogical issues." For the sentence to be applicable, the Spanish education ministry must request that it be enforced.
The court ruling comes just as several usage studies have found a clear decline in the use of Catalan in primary and secondary schools. With respect to this, Aragonès affirmed in Palma that it is necessary to increase the presence of the Catalan language in the school centres and guarantee its learning: "We must go in the opposite direction from the one that the sentence proposes".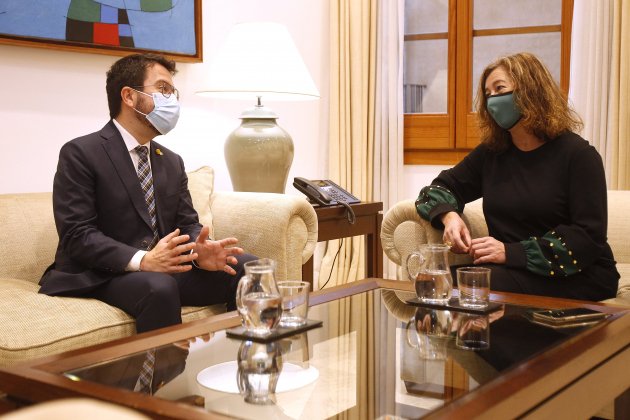 Financing
Aragonès made these statements after the meeting he had held in the Mallorcan capital Palma with the president of the Balearic Government, Francina Armengol. Both leaders have again called on the Spanish government to provide more extraordinary resources to deal with the pandemic, as well as to maintain the Covid funds from 2021 into 2022. He also denounced the situation of "underfunding" that Catalonia and the Balearic Islands are affected by.
Main image: Pere Aragonès and Francina Armengol during the meeting this Wednesday in Palma / Europa Press