The Catalan government has again been notable in its absence during king Felipe VI's visit to open the Gastech exhibition and conference. The most senior representative it sent was the director general of Energy within the business and skills department, Pere Palacín. The government made it clear in June they would no longer take part in events organised by the royal household.
Neither Barcelona's mayor, Ada Colau, nor any representative of her city council attended, but Nuría Marín, mayor of L'Hospitalet did.
The most senior political representative to receive the monarch was the central government's delegate to Catalonia, Teresa Cunillera. The king was accompanied by the minister for ecological transition, Teresa Ribera.
The delegate to Catalonia, L'Hospitalet's mayor, the president of Barcelona's Fira trade fair institution, Josep Lluís Bonet, and the president of Barcelona's chamber of commerce, Miquel Valls, were responsible for receiving Felipe VI as he arrived, accompanied by two senior officials from Gastech.
The monarch's arrival also failed to cause any special excitement in the half-empty, which he entered discretely and silently.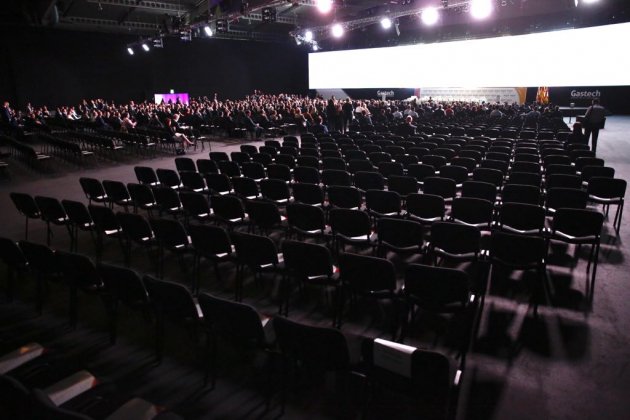 The Catalan government announced in June that it would not take part in events organised by the royal household, nor would it invite the monarch to events it organises, in protest at Felipe VI's response to the police repression of last year's independence referendum.
Quim Torra coincided with the king for the first time as president at the opening of the Mediterranean Games earlier this summer, taking the opportunity to hand over information about the police repression. Nobody from the Catalan government took part in the Princess of Girona awards ceremony held shortly thereafter.