Catalan minister Clara Ponsatí, who is in Scotland facing an extradition request from Spain over her role in the independence movement in Catalonia, has received support from large swathes of the Scottish public and institutions. After voluntarily attending an Edinburgh police station last Wednesday, where she was taken into custody given the European Arrest Warrant against her from the Spanish Supreme Court, Ponsatí was released on bail, her passport having been confiscated.
Since the minister has been in Scotland, where she is a professor at the University of St Andrews, the support she has received from the Scottish independence movement has been unanimous. The day she handed herself in at the police station, she opened a crowd-funding campaign for her defence expenses which has raised over £225,000 (€255,000, $315,000).
Support from the Scottish government and public
The SNP (Scottish Nationalist Party), currently in power in the country, openly rejected the Spanish state's position on the Catalan conflict. First minister Nicola Sturgeon expressed her "strong opposition" to the Spanish government's decision to "seek and imprison Catalan pro-independence leaders", but said that she would respect the independence of the judiciary and not interfere in the courts' decision.
To all those angered by latest developments on #Catalonia, please read @scotgov statement below. Our support for Catalan self determination and strong opposition to Spain's decision to seek the arrest and imprisonment of independence supporting politicians is well established 1/ pic.twitter.com/GIfgptAzqS

— Nicola Sturgeon (@NicolaSturgeon) 25 de març de 2018
Ponsatí enjoys great sympathy from sectors of the public, especially among SNP voters. On a number of occasions, Scots have protested to support her, like last Wednesday, during her first hearing.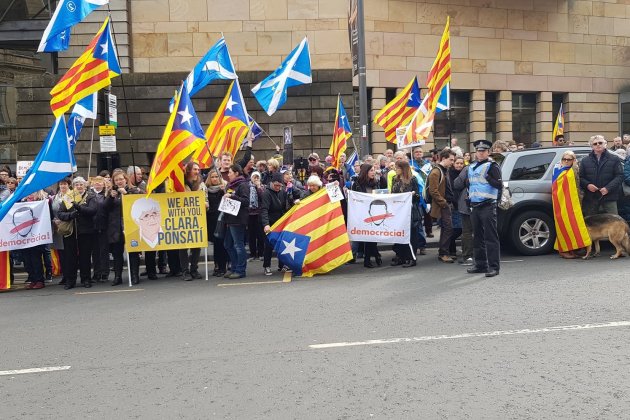 Press pressure
The issue has also made waves in the Scottish press, which has repeatedly shown its support for the minister. For example, the newspaper The National has published a number of articles about Ponsatí on its front page, denouncing the persecution she is facing.
Indeed, the paper's front page on Thursday was dedicated to the story, the headline reading "Scotland sends a message to Spain... you can't have our Clara!" The newspaper has also said that traces of the Franco regime are still visible in Spain.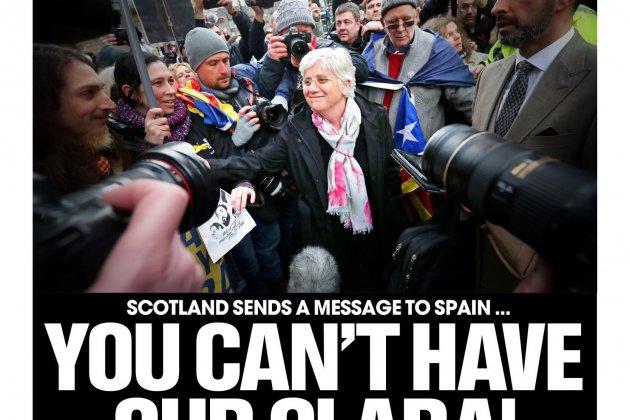 University of St Andrews defends the minister
And support for Ponsatí doesn't end there. The University of St Andrews, the oldest higher-education institution in Scotland, which she recently rejoined, has publicly expressed its support for its professor.
Sally Mapstone, the university's principal and vice-chancellor, said that they are "committed to the defence of free speech" and "deeply concerned by recent developments, their motives and potential consequences".
Meanwhile, students have created a campaign called "St. Andrews Supports Clara Ponsatí", which describes itself as a group of "St Andrews students supporting Professor Clara Ponsati, who faces politically motivated charges in Spain". The group is organising a demonstration in front of the university's Students' Union on Monday 2nd April.