Lawyer Gonzalo Boye, representing Carles Puigdemont and Toni Comín, went to the Congress in Madrid this Monday, accompanied by a legal proxy for the politicians, to formalise the requirement they "swear or promise" to uphold the Constitution as MEPs-elect. They weren't allowed, however, to take part in the ceremony on behalf of their clients, nor to submit a letter signed by a Belgian notary confirming they had taken the oath in his presence.
Boye didn't leave it at that, however. Once they had confirmed they wouldn't be allowed to take part in the public ceremony, they went to the Central Electoral Commission to file a document denouncing what they say is a violation of their clients' parliamentary immunity, to which they attached the notary's confirmation the two politicians had made the required promise. They also gave a list of alternative suggestions for how they could fulfil the requirement and detailed Constitutional Court precedent which supports the idea the promise doesn't have to be made in person in the Congress.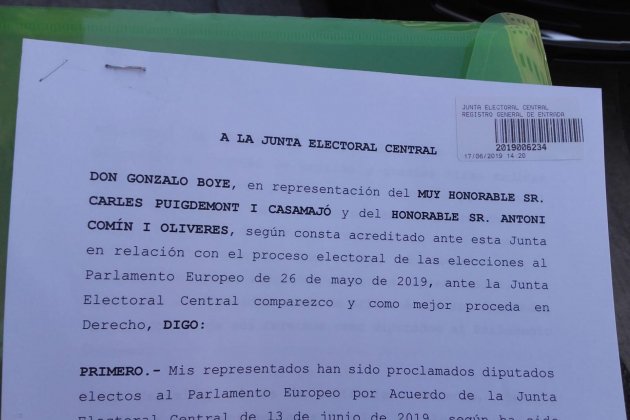 The document was registered with the Commission at 2:20pm. According to Boye, the Commission is required to give a response, which they hope will come this week.