Catalan president Carles Puigdemont has today started his two-day visit to the Republic of Ireland.
This morning he met with former Taoiseach (prime minister) Bertie Ahern in Dublin. They had a "friendly meeting" in the capital of the Republic of Ireland, during which they discussed the Catalan situation among other international issues. Ahern, who signed the Good Friday Agreement, wanted to learn "first hand" about the current situation in Catalonia.
It has been a pleasure to meet former Taoiseach Bertie Ahern in Dublin. I have discussed several international issues including the Catalan conflict with the former Irish PM pic.twitter.com/YsN6NgqfTh

— Carles Puigdemont (@KRLS) 29 de gener de 2019
Puigdemont then met with Catalan digital policy and public administration minister Jordi Puigneró, also in Dublin currently. Together, they visited an olive tree dedicated to Barcelona and the Irish citizens who fought in the War of the Spanish Succession.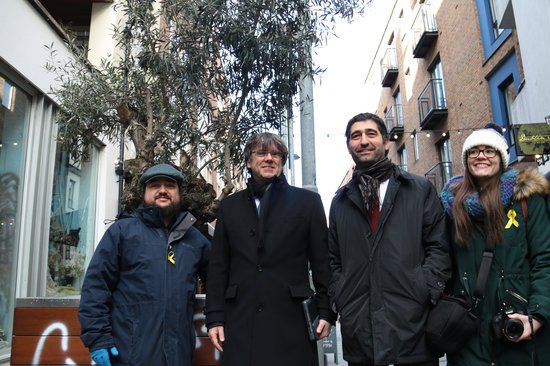 Puigneró is in Ireland to hold meetings on the subjects of digital rights and investment in Catalonia. He placed a yellow loop on the tree in homage to the imprisoned pro-independence leaders.
In the afternoon, Puigdemont visited the Oireachtas, the Irish Parliament, to meet the group of Friends of Catalonia.
Josep Lluís Alay, the director of Puigdemont's office, tweeted that the president "has explained the Catalan conflict to Irish deputies and senators: Catalonia's right to self-determination, political prisoners and exiles, Spanish repression, construction of the Catalan Republic".
Davant la sala de conferències del Parlament irlandès, el President Puigdemont @KRLS ha explicat el conflicte català a diputats i senadors irlandesos: dret a l'autodeterminació de Catalunya, presos polítics i exiliats, repressió espanyola, construcció de la República Catalana pic.twitter.com/O2GgK7EvXK

— Josep Lluís Alay 🎗 (@josepalay) January 29, 2019
He then gave a speech at Trinity College: