The engineer Bernat Ollé and the researcher Romain Quidant have given up the Princesa de Girona Foundation Prize over the attitude of Spanish king Felipe VI towards the conflict between Catalonia and Spain. In a letter, the two winners say that the monarch's behaviour has distanced himself from the Crown's neutrality.
In a letter published on social media, the engineer from Reus in Catalonia and the French scientist say that the king has "destroyed" the role of the Royal Household which, "for years", had been characterised by "building bridges". The laureates believe he has made the position of the Crown clear, especially after his extraordinary speech on 3rd October, in which he blamed the independence movement for the tension in Catalonia and called on the institutions of the state to take action.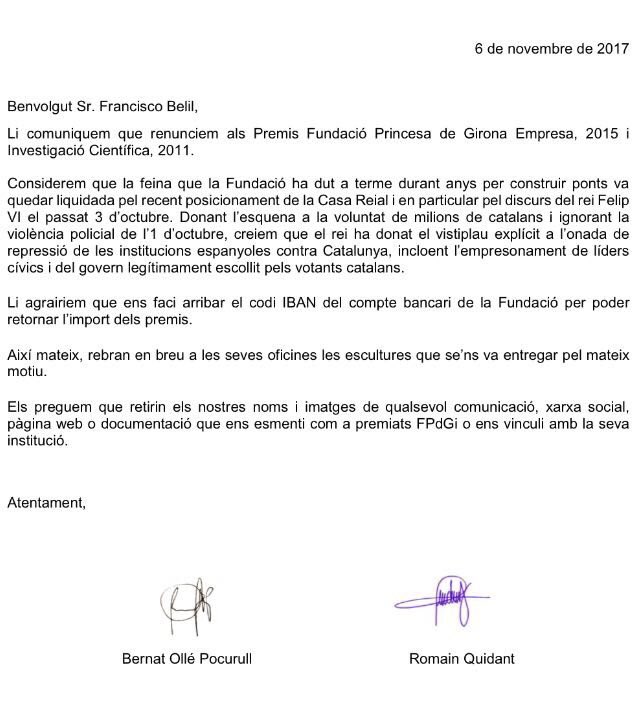 The prizewinners believe that the king has "ignored" the police violence and taken a position "turning his back on the wishes of millions of Catalans". What's more, they believe that Felipe VI "has given explicit approval" to the state's violence during the 1st October referendum and the imprisonment of the Catalan government and the leaders of the pro-independence organisations.
The pair say they will return both the 10,000 eurors (£8,800, $11,600) prize money, along with the trophies. They also ask the foundation to remove their names and likenesses from any "message, social network, webpage or document". Ollé won the 2015 Business prize and Quidant the Scientific Research prize in 2011.
The Principe de Girona Foundation was created in 2009 by a group of Catalan business people and financiers, with the patronage of Felipe, then heir to the throne, "Principe/Princesa de Girona" being one of the titles of the Spanish heir apparent. The organisation aims to "support young people in their professional and personal development" through a number of initiatives, including the prizes, which it awards yearly in five categories: Arts and Letters, Social, Entity, Scientific Research and Business.