The daughter of the chair of the second chamber of Spain's Supreme Court, Manuel Marchena, has won a place to become a public prosecutor in an unprecedented process which suggests preferential treatment, according to eldiario.es. Sofía Marchena Pereda has won place number 36 out of the initially announced 35 places through a process suspected of nepotism.
Marchena's daughter, in 2016, passed the oposición (state exam) to study to become a public prosecutor or judge with a mark of 68.20. She chose the judge path and started at the Escuela Judicial in Barcelona. At that time, she could have instead chosen to become a public prosecutor because she had a high enough mark in the exam. Once you've gone for one option, however, you cannot swap to the other.
CGPJ agreement
One month after starting at the Escuela Judicial, she dropped out due to illness. She didn't, however, restart once she was better with a new year, as allowed by the law. Instead, in December 2017 the permanent commission of the General Council of the Judiciary (CGPJ) allowed her to start again from before she chose between the two paths, whilst keeping her mark and her right. This is unprecedented.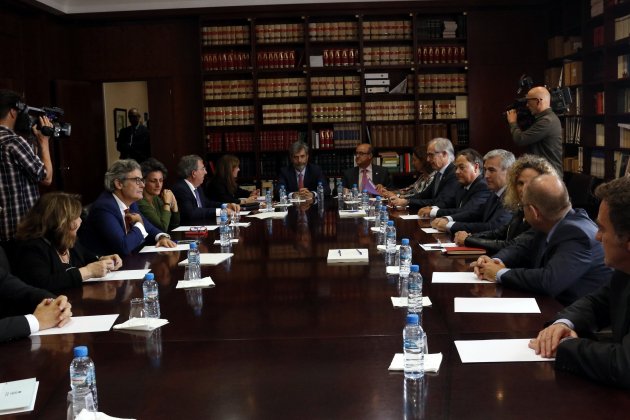 The change was agreed by the permanent commission of the CGPJ at the suggestion of the head of the Escuela Judicial, Gema Espinosa, wife of Pablo Llarena, a judge in the second chamber of the Supreme Court which Manuel Marchena presides over. The agreement was adopted on 21st December, just before the Christmas break, which some have interpreted as a way for it to be less noticeable.
Public prosecutor place
Thanks to this agreement, Marchena's daughter has earned a place to study to become a public prosecutor. Specifically, place number 36 out of 35. The announcement was published yesterday, 25th July, in the official state gazette (link in Spanish). The mark she's listed under, however, 52.31, isn't the one she earned when she took the exam, 68.20. It was changed, CGPJ sources tell eldiario, "to not harm anyone".
The alleged preferential treatment of the judge's daughter has been criticised on social media by a variety of legal scholars and politicians.
Hoy, @elisabeni saca a la luz un caso sospechoso de trato de favor en la oposición para jueza o fiscal a la hija de un Presidente de Sala del Tribunal Supremo.
Estas cosas, y otras que seguramente no salen a la luz, emanan tufillo mafioso y corporativo. https://t.co/1jnXj3kZtC

— Joaquín Urias (@jpurias) 26 juillet 2018
Translation: Today, Elisa Beni reveals a suspicious case of preferential treatment for the daughter of a chamber president of the Supreme Court in the state exam for judges and public prosecutors. These things, and others which likely don't come out, give off whiffs of mafia and corporatism. 
Esto pinta feo y lo que no se sabe es si es lo único que pasa a la altura del Supremo:

La hija de Marchena, por Elisa Beni @elisabeni https://t.co/8h5uhwwWqg vía @eldiarioes

— Gonzalo Boye (@boye_g) 26 juillet 2018
This looks ugly and what's unknown is whether it's the only thing which happens at the level of the Supreme Court.
Marchena és presumptament l'autor intel·lectual de tot el que fa Llarena i confirma la sala d'apel·lacions del Suprem. És el magistrat que ha d'escriure la sentència del judici contra l'independentisme. Aspira a presidir el Consell General del Poder Judicial a partir de desembre https://t.co/Jr10qJHj4k

— Josep Costa(@josepcosta) 26 juillet 2018
Marchena is supposedly the mastermind behind everything Llarena does and which the Supreme Court's appeals chamber confirms. He's the magistrate who has to write the sentence of the trial against the independence movement. He aspires to preside over the CGPJ from December.
The Unió Progressista de Fiscals (Progressive Union of Public Prosecutors) has asked the CGPJ for all the information and documentation relating to Marchena the daughter.