Catalan police force the Mossos d'Esquadra have reinforced their presence in the busiest areas of central Barcelona in response to the alert over a possible terrorist threat in the coming days. On Sunday the Mossos received the warning of a possible terrorist threat in Barcelona, ​​which they say has "medium" credibility. At the same time, the United States issued a travel advisory recommending that its citizens take extra precautions in the areas where there are vehicle and bus movements in the Catalan capital, and especially on the Rambla.
According to the warning, a man with the initials L.B., a bus driver from the Moroccan city of Casablanca, "is thought to be intending to commit a terrorist action on December 25th". The man apparently has several types of driver's licence and could therefore use "buses, coaches or minibuses to take action."
This Christmas Eve the Mossos d'Esquadra have posted officers, some of them with long-barrelled weapons, at the top of the Rambla, as well as placing three police vans right at the entrance to the famous Barcelona avenue. Members of the city's Guàrdia Urbana force have been stopping vans and trucks seeking to enter the Rambla to check their documentation and, in some cases, also checking the goods.
Preventive patrols
Sources in the Mossos d'Esquadra have confirmed to the ACN news agency that they have reinforced preventive patrolling in the most crowded central areas of Barcelona - both because of the specific terrorist threat and also because it is normal Christmas policy.
Meanwhile, Barcelona City Council sources have indicated that the city's Guardia Urbana force have been made available to the Mossos d'Esquadra to work jointly where necessary and respond to any requests they make.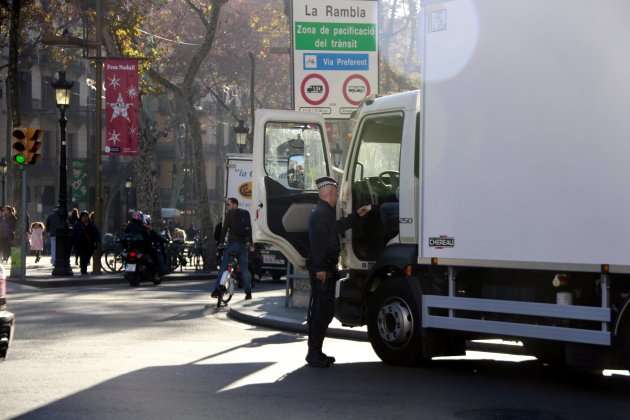 Catalan interior minister Miquel Buch told radio station RAC1 on Monday that the jihadist threat against the city of Barcelona which was made public on Sunday is "one of many" that the Catalan police receive and that they give importance to every alert that reaches them. However, he admitted that this is a little "different" because the United States had given it publicity via a travel advisory circulated on Twitter. The minister says that they always work to prevent threats from being put into effect and that anti-terrorist preventive patrolling will be intensified.