Spain's fugitive former king, Juan Carlos I, has flown back into the country, this afternoon, landing in Galicia in what is the largest image-washing operation carried out by the Spanish monarchy since the 23-F coup attempt of 1981. After Spanish justice deactivated the three investigations into the ex-head of state over receiving irregular commissions, with only the complaint lodged by his former mistress Corinna Larsen remaining, the Zarzuela royal palace has carefully prepared a plan for the rehabilitation of Juan Carlos I in stages, so that the Spanish population can assimilate it. The TV crew deployment in this first stage is massive, and all sorts of techniques are in use. As expected, the king emeritus arrived at Vigo airport at around 7:15pm in a private jet from Abu Dhabi, and was received by his oldest daughter, the infanta Elena. From there he went by car to the town of Sanxenxo, to stay at the house of the businessman Pedro Campos in the locality of Nanín.
🔴 "Portem unes hores a Sanxenxo i de moment hi ha certa tranquil·litat. També hi ha un ambient de festa major. Gairebé tothom defensa que el rei Joan Carles vingui aquí." @albertcalatrava, des de Galícia, on arribarà l'emèrit#TotEsMouTV3

▶ https://t.co/KzE6aC45HU pic.twitter.com/t3nX7VsjD4

— Tot es mou (@totesmoutv3) May 19, 2022
"We've been here in Sanxenxo for a few hours and it's all quite calm... Almost everyone here defends the fact that Juan Carlos is coming here." - TV3 Catalonia reporter   
🛫 Juan Carlos I ya ha despegado de Abu Dabi y se prevé que aterrice en aeropuerto de Vigo en la tarde del jueves 19 de mayohttps://t.co/U8K1iwzz4M

— Informativos Telecinco (@informativost5) May 19, 2022
"Juan Carlos has taken off from Abu Dhabi and his arrival at Vigo airport  is expected this afternoon Thursday 19th May" -Telecinco News
The visit of the fugitive king has nothing private about it, and the proof of this will be seen in an appearance expected tomorrow. At noon, there will be a welcome ceremony at the Club Náutico de Sanxenxo, the sailing club, where it has already been announced that the ex-king will be received by his friends and the mayor of the town of Pontevedra, Telmo Martín. If the Spanish monarchy's operation to rehabilitate the image of Juan Carlos is running any risks, it is the possibility that it might be too brazen.
The excuse of the emeritus for this first return to Spain is to take part in the Copa España in the International Six Metre yacht class, which gets underway on Friday in the Galician town. This contest will serve as a lead-up for the world championship in this category, the 2022 edition of which will take place in the Galician inlet from 10th June. In this regard, Juan Carlos himself has acknowledged that he is "out of practice" since he has not sailed​ since August 2019 (when he underwent heart surgery). The fugitive king, who is 84 years old and walks with a stick, will sail in a boat adapted to his situation.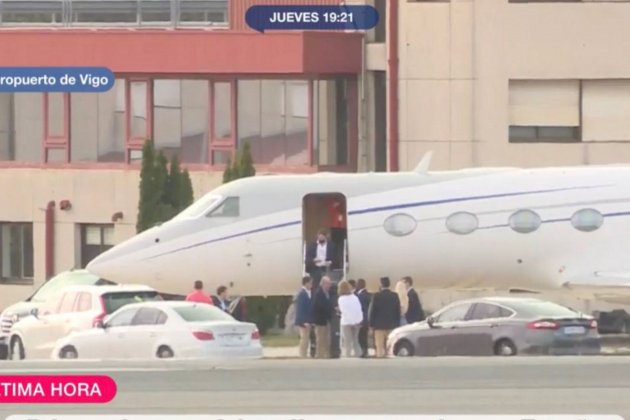 The other key part of this five-day trip comes on Monday when the former monarch will have a meeting with his son, Felipe VI, in Madrid. They were close to seeing each other this past weekend, when the current king paid a lightning visit to Abu Dhabi (where his father resides) following the death of the president of the United Arab Emirates. They didn't see each other, but they did talk on the phone over the details of this weekend's return. In addition, Juan Carlos I will, in the end, coincide with his wife, queen Sofia, who is on a private trip to Miami (USA). The queen will not be in Spain this weekend, but she will be able to meet him on Monday. The statement from the royal house also states that "this visit takes place in the context of Juan Carlos's desire to travel frequently to Spain to visit family and friends, and to organize his personal life and his place of residence in areas of a private nature, as stated in the letter addressed to Felipe VI on March 5th." But if everything is very private, there is no public rehabilitation: hence the contradictions.