Luis Enrique is no longer coach of the Spanish national men's football team. After months away from the squad for personal reasons, his departure was announced in a press conference today by the president of the Spanish Royal Football Federation (RFEF), Luis Rubiales.
🗣 @LuisRubiales: "Luis Enrique nos ha comunicado que no va a seguir como seleccionador. Tengo que darle las gracias. Se ha portado con la RFEF de manera '10'. No tenemos el más mínimo reproche. Hemos estado unidos con él. Siempre tendrá las puertas de la RFEF abiertas" pic.twitter.com/iTl0HGmlkO

— RFEF (@rfef) 19 de juny de 2019
Asturian-born Luis Enrique Martínez, known as Luis Enrique since his playing days, took the decision to leave himself; he will be replaced by his number two, Robert Moreno. Moreno has worked with him for nine years, including three years at Barça (2014-17). He came with him to the national side when Luis Enrique took over from Fernando Hierro last summer. The team had just been knocked out the World Cup in the round of 16, after previous coach Julen Lopetegui had been fired just hours before their first match in the competition.
The Federation leaves the door open
The RFEF has thanked and expressed its support for Luis Enrique and left the door open for him to return in the future: "We're united with him, I spoke with him a while ago and he'll always find the doors open to the Federation and the national team," said Rubiales.
🗣 @LuisRubiales: "Estamos convencidos que la mejor respuesta es el equipo más preparado, y ese equipo lo representan Robert y su grupo, que llegaron con Luis Enrique. pic.twitter.com/Xu4Abi7ltW

— Selección Española de Fútbol (@SeFutbol) 19 de juny de 2019
Moreno's appointment is not provisional - he'll be Luis Enrique's permanent replacement. In today's press conference, Rubiales and sporting director José Francisco Molina said he'll be responsible for the campaign to qualify for and then win Euro 2020.
The decision
Rubiales and Molina had met with Luis Enrique in Barcelona to discuss his situation. They both said that "the only thing we talked about was the trust we have in him, about being calm and waiting for developments".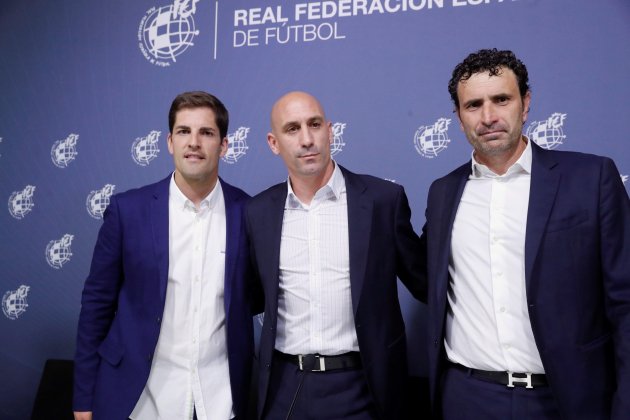 RFEF's intention had been to wait for Luis Enrique, but the turning point came recently when the coach himself decided to leave the team. "He raised it himself and we've looked for the best solution," said Rubiales.
In a letter, the outgoing coach wrote: "Due to the fact that the reasons which have prevented me from fulfilling my duties as selector as normal since March continue today, I've decided to leave the role".