German newspaper Die Tageszeitung, popularly known as Taz, has warned in an extensive report on how Europe is confronting the coronavirus pandemic (link in German), that the Spanish economy would not survive a second lockdown.
"In the coming days, representatives of Spanish regional governments and ministries will hold meetings to agree on new measures. It is unlikely that there will be a state-level lockdown again as in March. The economy would not survive a second closure," the German media warns.
The newspaper attributes the increase in cases to "the social life of Spaniards." It finds no other explanation, and makes the admission with something akin to perplexity. "Something has gone wrong. The Spaniards use masks like almost nobody else in Europe. Every time they leave home they have to put them on, and since the beginning of August it has been mandatory in every Spanish autonomous community. And if it's not possible to keep two metres away from others, you are not even allowed to smoke in public. In all stores there are products for cleaning hands. People disinfect themselves constantly. And yet the second wave is hitting here worse than anywhere else", it notes, with grave concern.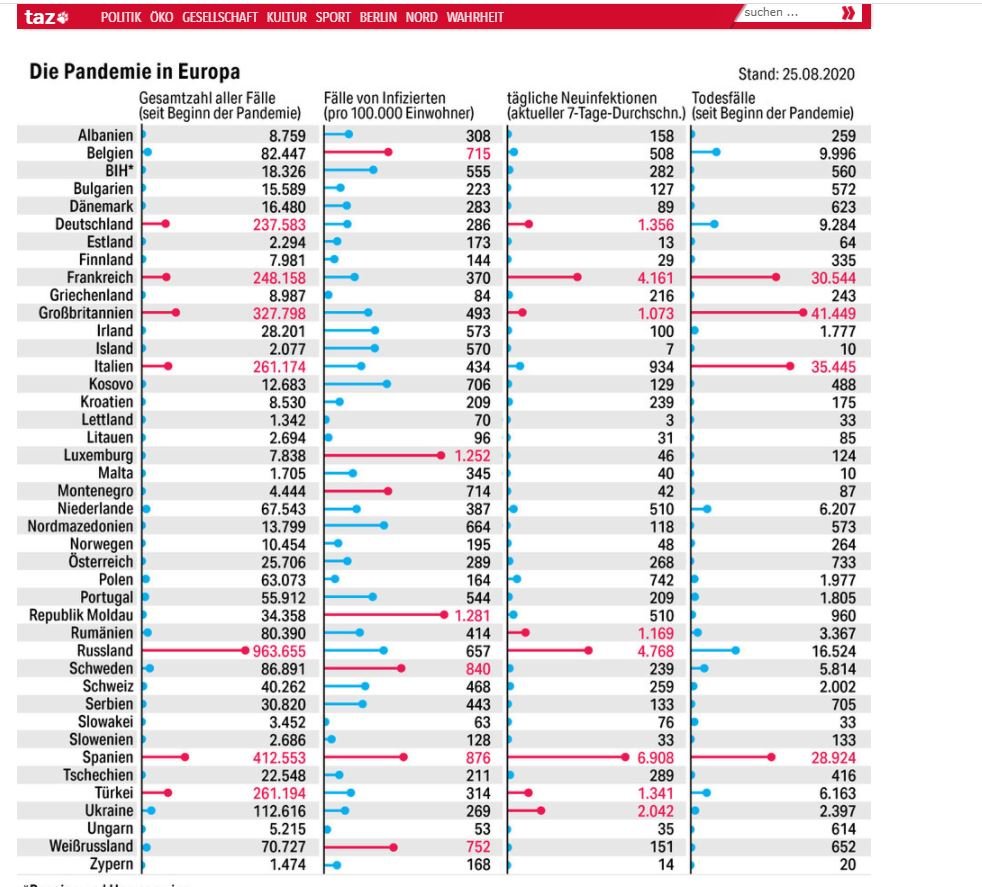 The fact is that in the graph that Taz has published comparing all European countries, Spain shows the worst data. And the article reiterates that the only explanation comes from what Spaniards are like and how they live.
"What probably contributes most to the high numbers of infections is the social life of Spaniards. Summer is the time when friends and families meet. During celebrations, safety measures are soon forgotten. In family circles, there are only a few who are aware of the danger. Many infections have occurred in these social gatherings," the newspaper says.
Taz also analyzes the patterns in the Netherlands, and the contrast is obvious. With the return to normal life after the strong measures of the spring, cases of coronavirus began to mount up in the country again. But a public appeal by prime minister Mark Rutte to take extreme precautions was enough to bring the curve down again.
"The Netherlands saw a significant increase in infections in the second half of July. It was a scenario that was expected after the gradual lifting of lockdown, but in August the trend reached the point where prime minister Mark Rutte urgently called for people to take greater care. No further action was taken. But the call to the public seems to be bearing fruit," notes Taz. In the Netherlands, masks are not even compulsory.