Among the thousands of documents in the case at Spain's Supreme Court investigating last year's Catalan independence referendum are a number describing the security arrangements for the day. Originally, the Mossos d'Esquadra (Catalan police), set up their operation for the referendum, before the Spanish state took control.
Although the investigation against the Mossos and their then head, Josep Lluís Trapero, is at the National Audience court and separate, the fact the Supreme Court is investigating then Catalan interior minister Joaquim Forn means they have a lot of documentation on the matter. Indeed, it forms a large proportion of the 50,000 documents in the file.
Emails seized by the Civil Guard from minister Forn's computer include the plans for police deployments on the day of the referendum and the orders the Mossos were given to fulfil their orders without violence.
Trapero writes, in an email to Forn, the general guidelines set out for the Mossos that day and says that the whole force has been told that coexistence must be guaranteed. Mediation is prioritised and they are asked to not use batons, unless there are any incidents.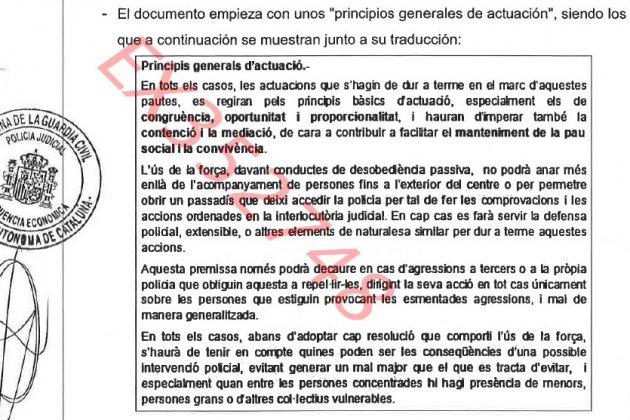 These guidelines are interpreted by the Civil Guard as a way to skirt around the legal order to prevent the referendum. They were validated with senior interior department officials on 30th September. Two days earlier, there was a security board meeting with representatives of the Civil Guard, National Police, representatives of the Catalan government, and Diego Pérez de los Cobos, chosen by the Spanish interior ministry to head the operation.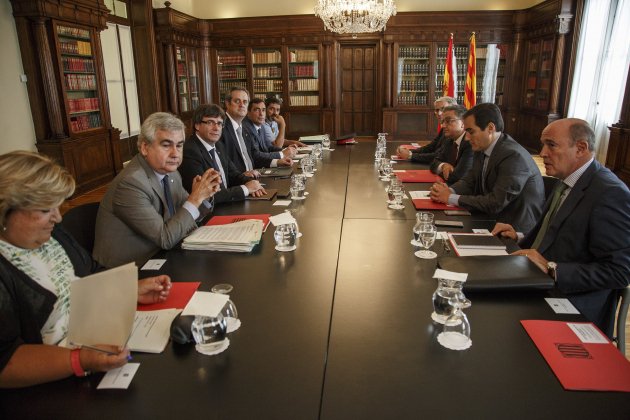 Trapero asked to have control of the police in that meeting, and for no violence to be used. He talked about proportionality, but Péres de los Cobos closed the debate saying that public coexistence cannot be a pretext to not use police violence.

In the same meeting, Forn asked for it to be the Mossos d'Esquadra in charge of the security operation during the referendum, as the police force of Catalonia, with the Civil Guard and National Police Corps acting when necessary. But Pérez de los Cobos opposed that suggestion, saying that the judge had addressed all the Spanish police forces in her order.