The leading figures in the European Union have closed ranks around Mariano Rajoy and the Spanish government in their strategy towards Catalonia, the day before they will announce the measures to be taken via article 155 of the Spanish Constitution, which allows for intervention in Catalan self-governance. The president of the European Commission, Jean-Claude Juncker, the president of the European Parliament, Antonio Tajani, and the president of the European Council, Donald Tusk, have this Friday attended the ceremony for the Princess of Asturias awards to receive the "Concord" prize on behalf of the European Union. In their speeches, all three supported the Spanish prime minister, Mariano Rajoy, in his strong rhetoric against Catalan independence supporters.
Tajani had the strongest words in his speech. He made a bitter defence of the law and the rule of law, in the face of "populism" and "nationalism". For the Italian, the supremacy of the law over those who "sow discord, voluntarily violating the laws" must be remembered. "Let nobody in the European Union think of breaking the law", he said, "the law isn't an option, it's an obligation".
He also said that treaties, like the European ones "can be changed", but that until such a change is finalised, the old version stands. The president of the European Parliament also wanted to praise the 1978 Spanish Constitution which is what opened "the way for Spain in Europe".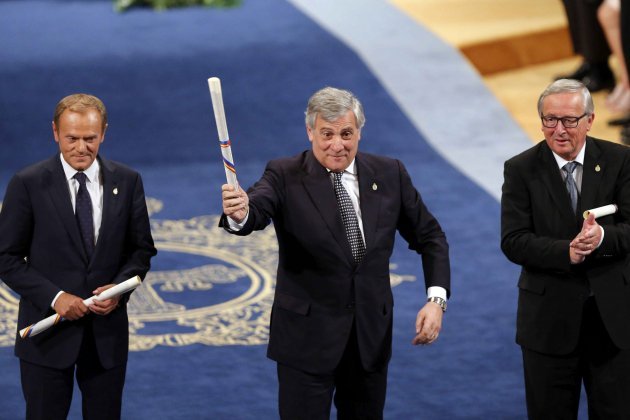 Juncker, meanwhile, eulogised the Spanish flags that he said were flying in Oviedo, the capital of Asturias where the prizes are awarded. "I've seen Spanish flags in all the streets. It's a beautiful sight," he said. The European Commission's president also spoke a few words in Spanish, saying that "Europe is a symbol of democracy and liberty".
Finally, Tusk defended "dialogue" as being "better than conflict" and said that "violence leads nowhere". He also called for the law to be respected and for "concord, which is a synonym for unity". "We dream of a united Europe, with concord and where the truth can prevail," he said.