The largest German weekly, Der Spiegel, has looked into the past of Spanish party Vox, raising questions about 971,890 euros of funding the far-right party apparently received from Iranian opposition. The paper cites the party's founder, Aleix Vidal-Quadras as key to the events, someone "not unknown in Madrid or Brussels", having been an MEP for fifteen years and vice-president of the chamber for five of them. "When the Spanish conservative decided at the end of 2013 to leave his party and found one of his own, the right-wing populist Vox, he immediately found affluent supporters among Iranian forces of opposition in Europe".
Citing El País, Der Spiegel says the creation of Vox would "barely have been possible without the financial support of sympathisers of the Iranian opposition". Beyond that, "the transfers from the Iranian opposition were pieced together, no individual donation was above the sum of 2000 euros, the money flowing from around fifteen different countries, including Germany, Switzerland, Italy, Canada and the USA". It all ultimately, however, apparently came from the National Council of Resistance of Iran (NCRI).
This money was aimed at getting Vox into the European Parliament in the 2014 election. In this they were unsuccessful, as the part only got 1.6% of the vote and no seats. "After the electoral defeat, Vidal-Quadras left the party he'd founded. Shortly thereafter, the flow of money from the Iranian opposition in exile also dried up".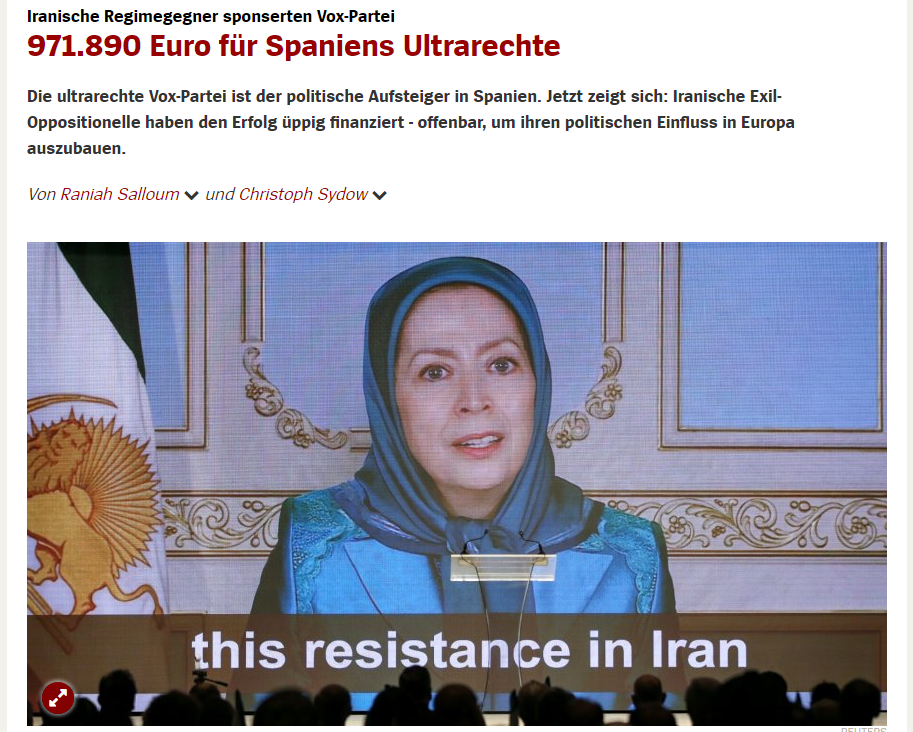 But who are the NCRI? "They are the de facto political wing of the People's Mujahedin, a militant opposition movement aiming to topple the Tehran regime. The USA kept the NCRI and the People's Mujahedin from 1997 to 2012 on their terror list; the EU classified the People's Mujahedin from 2001 to 2009 as a terrorist organisation," Der Spiegel writes. It adds that even today, the People's Mujahedin hasn't renounced violence as a political tool and display "almost cult-like reverence" for their leader, Maryam Rajavi, who they call the "sun of the revolution".
Back on the subject of funds, both groups "deny having transferred money to Vidal-Quadras as an organisation", but do "praise, in a joint statement, the politician for having been decisive in seeing to it that they were struck from the EU's terror list". Indeed, in 2009, he even visited the NCRI "in their then headquarters in Camp Ashraf to the north of Baghdad in Iraq". The group had spent years on the side of Iraqi dictator Saddam Hussein in his war against Iran.