Pass around a bottle of something with friends in a Barcelona square - in times of Covid-19 - and it could be the most expensive drink you've ever had. Catalan government spokesperson Meritxell Budó announced on Tuesday morning that the Procicat civil protection committee had agreed to ban the practice of botellón - that is, shared consumption of alcoholic beverages in public areas. This is Catalonia's latest move to combat the country's renewed outbreak of coronavirus, which is affecting young people in particular. And there are very heavy fines.
Budó explained that it is up to local councils to monitor and control this ban, which applies throughout Catalonia. Non-compliance will be punishable with a fine of between 3,000 and 15,000 euros.
Up till now, some municipalities have imposed their own local bans on botellóns; with this Procicat resolution, according to the minister, a "legal framework and coverage" will now be provided for municipalities that do not have it regulated.
A dashboard for the pandemic
During the press conference following the weekly meeting of the Catalan cabinet, the minister and spokesperson did not want to give further information on the restrictions that the president, Quim Torra, outlined on Monday, which could be applied in the event that the spread of the current outbreaks is not halted. "In too many parts of the country we are just a one step away from the situation before March, when the whole population had to be locked down. We are probably facing the ten most important days of this summer," said the Catalan president on Monday. "I don't want to have another 7,000 deaths", said Torra, adding that the spread of the coronavirus amongst young people this summer was a major problem and specifically, a botellón was "not a party but an act of insolidarity".     
The Catalan government announced that it is about to present a crash plan against the Covid-19 situation, including an epidemiological dashboard that establishes alert levels and, based on this, the measures to be applied. "The evolution of the data will be crucial. If the epidemiological data is not good we will have to take more drastic measures," said Budó.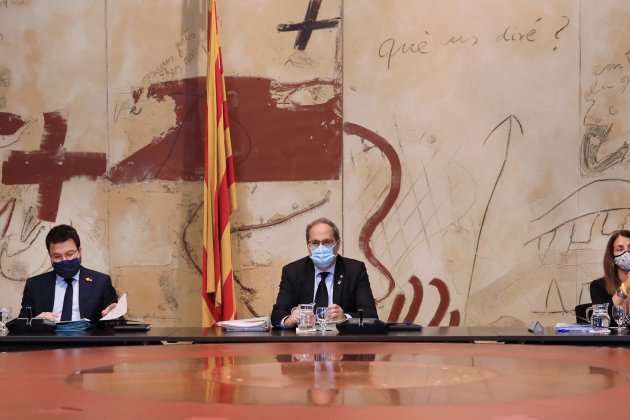 Despite the warnings from president Torra about the resurgence of Covid-19, Budó also reiterated that Catalonia is a responsible tourist destination and that "all hotels and tourist accommodation are applying all safety measures and people can be assured that they can safely take holidays in Catalonia". She explained that her government had launched an international campaign to explain that Catalonia is a safe destination.
In relation to the departures of the local population for holidays, she admitted that if people chose to travel it could not be stopped because there are no restrictions on mobility and therefore the Catalan government is limited to requesting people to "be responsible" about their travel.
In relation to the criticism received by the Catalan health minister, Alba Vergés, and petitions calling for her resignation, Budó assured that she has the confidence of the president, as was shown by the fact that yesterday they jointly took part in a meeting with the heads of Catalan hospitals.
Budó stated that in the face of possible outbreaks, the government has joined a system of possible centralized purchasing that would be carried out at state level.
What is a botellón?
In answer to journalists' question, Budó gave a more precise definition of what a botellón consists of:
"What is banned is the shared consumption of alcoholic drinks in the street and in all other spaces open to the public. That is, having a few beers with a group of friends on the beach at night, that would be included as a botellón and thus is banned, like any other get-together of a group of people who are consuming alcoholic drinks in a public place."