The Spanish embassy in the United Kingdom monitored the Scottish Prime Minister, Nicola Sturgeon last year, with a visible concern about the relationship between Scotland and Catalonia. An embassy official followed a political conference by the SNP in Glasgow, with special attention to the tribute paid to Catalonia's former culture minister Clara Ponsatí, and also the subsequent attendance of VP Pere Aragonès to another event. A report dated 15th October 2018 was then compiled for the Spanish foreign ministry.
The diplomatic cable is one of the documents that Spain's foreign ministry submitted in the legal proceedings attempting the closure of Catalan government delegations in Germany, Switzerland and the United Kingdom, which El Nacional had access to (below). The High Court of Justice of Catalonia recently dismissed this legal offensive.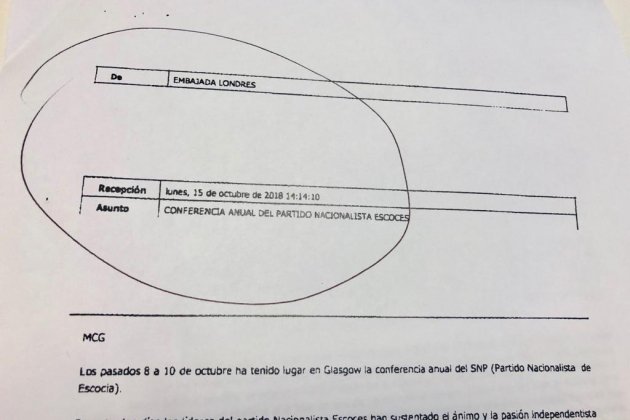 The note puts special emphasis on Ponsatí, at the time still pending the resolution of a European Arrest Warrant (EAW) by Judge Pablo Llarena against her, which was later withdrawn. "With regard to the relationship between the SNP and the Catalan pro-independence leaders, as well as the Spring Conference, the Catalan politician Clara Ponsatí (then pending a EAW) was present and even stood up on the speakers platform. On another occasion [in another conference in October], the guest was Catalan government VP, Pere Aragonès, who despite not intervening in the plenary, he did participate in one of the fringe events on the 8th October. During the event, he took part supporting a second Scottish referendum. He also made statements to the press, in particular to the nationalist daily The National Scot." Related to this it quotes that, according to Aragonès, the Catalan Government delegation in the UK has contacts with all the British parties and with Westminster through the pro-Catalan Association.
The cable also examines the standpoint that the Scottish PM has on independence, and points out that she is pro-independence but includes "a dose of pragmatism." in her views. "From the closing speech [at the SNP conference in October] two messages stand out: Scotland continues to need independence as a corollary for the devolution system, with the added justification of the treatment received by Westminster during the Brexit negotiations, in which the interests of the region (sic) have not been taken into account. However, contemporary to this, Sturgeon called for calm and patience as well as pragmatism to integrate the sectors opposed to independence".
The document especially analyses the Scottish position against Brexit, in the sense that it will be one of the new arguments for the pro-independence movement.