The dire situation makes it necessary, say CatSalud leaders bluntly. Catalonia's tough post-Christmas Covid measures, originally imposed for ten days after the Reis holiday, have now been extended for another week - that is, until at least January 25th. Thus, municipal confinement continues seven days a week, as well as other measures to reduce mobility and contacts.
Public health secretary Josep Maria Argimon explained in a press conference on Thursday afternoon that "by the end of the week we will be up to 24,000 new cases in seven days, even though the situation will be slowing down". Catalan health minister Alba Vergés added: "It's true that we're not growing exponentially, we have contained the growth, but it still goes on." And she added that "an acceleration similar to what has been in seen in some European countries cannot be discarded."
Thus, faced with all indicators rising and some predicted to approach critical levels - Catalonia now has 2,501 Covid patients in hospitals, with 493 in intensive care; the Rt transmission rate is at 1.27 and the outbreak risk at 657 - the government has announced an extension of the January restrictions.
Municipal confinement continues
The first of the measures, which will now remain in force for at least another week, is municipal confinement seven days a week, with no exceptions for the weekend as there had been on other occasions. With the municipal confinement, the ban since January 7th on travel to second homes continues.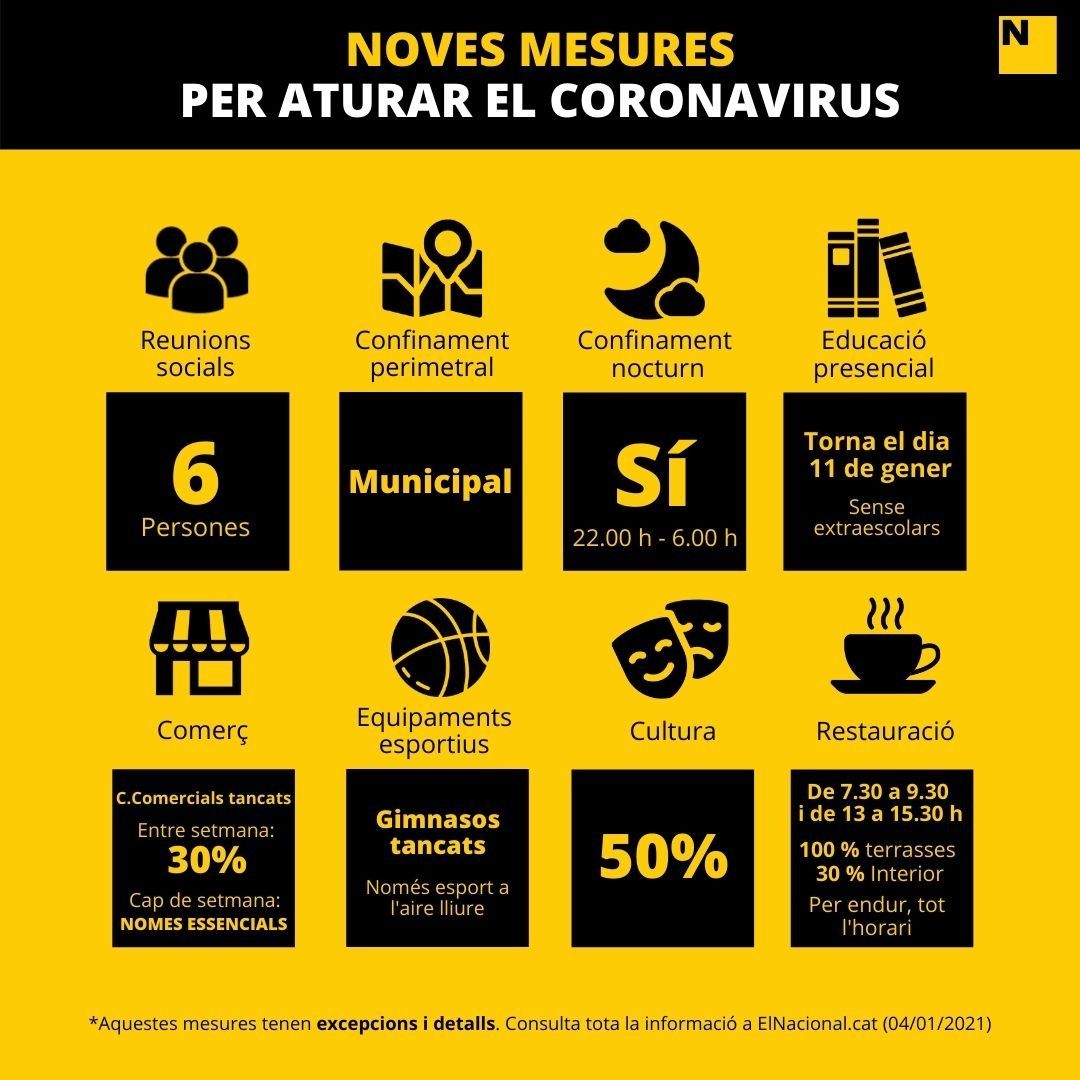 CURFEW & GATHERINGS
Curfew is maintained between 10pm and 6am, as well as the limitation on social gatherings to six people from a maximum of two cohabitation bubbles. Gatherings must be outdoors, except for visits to people with dependency or vulnerability, and only those within the same cohabitation bubble.
RETAIL
Shopping centres of more than 400 m² are to remain closed.
As well, all non-essential shops must remain closed at weekends. That is: small retail businesses, and those in shopping centres of less than 400 m², as well as street markets, can only open from 6am to 9pm, Monday to Friday.
Gambling centres (bingo halls, casinos and gambling rooms) are to remain closed.
BARS
Bars and restaurants remain open in the two limited time zones, from 7:30 to 9:30am, and from 1pm to 3:30pm. Capacity is limited to 30% indoors, and with a maximum of four people per table.
SCHOOLS
Lectures and theory classes in universities have to be held by virtual means. Face-to-face classes are maintained in infant, primary and secondary schools (although subject to a recommendation for secondary classes to reduce face to face contact if possible). Extracurricular activities are allowed as long as they are held in schools and involving stable classroom groups, but other recreational, extracurricular and school sport activities are suspended
Playgrounds are open to 50% of capacity until 8pm, while indoor play centres remain closed.
SPORT
Sports facilities can open if:
They are outdoors
They limit capacity to 50% of normal maximum
Groups no larger than 6 people (except for federated sport)
Indoor swimming pools are the exception - they can open to 30% of capacity, but other indoor sports facilities must close and competitions are suspended.
CULTURE & RELIGION
In terms of culture, these are the restrictions which are now extended until January 25th:
Cinemas, theatres, auditoriums and concert halls along with museums, libraries and exhibition halls can open for regular programming with these conditions:

Capacity must be limited to 50% of normal, with a maximum of 500 people
In cases where ventilation is optimal, this can be expanded to 1,000 people
For religious events, the rules are as follows:
Up to 30% of normal maximum capacity
Total maximum number of attendees indoors is 500, while outdoors or with optimal ventilation, up to 1,000.
What will happen to the elections?
The question of the week has no official answer yet. "The decision corresponds to the political parties, the political parties committee will reach agreement on whether the elections will be postponed. From the health ministry, we explain the epidemiological situation and the scenarios that may exist, and the growth of UCI admissions that could reach 750 or 800", said Alba Vergés. At present, the elections to the Parliament of Catalonia are scheduled for February 14th.