The Catalan CDR (Committees for the Defence of the Republic) have organised a protest for next Sunday against the presence of Spanish king Felipe VI at the opening dinner​ for the Mobile World Congress.
They called on supporters to take to the streets to protest the presence of "the Bourbon", using the name of Felipe's dynasty. The hashtags they added to the post read "let's dethrone him", "let's topple the regime", "you're not having dinner this year" and "no king nor fear".
🗓️ Diumenge 24 el borbó pretén sopar a #Barcelona amb motiu de la inauguració del #MWC19

👉 Us convoquem a totes a sortir al carrer per dir-li NO ETS BENVINGUT, NO SOM SÚBDITS!

🕔 A les 17:00 totes al MNAC!#DESTRONEMLO#TombemElRègim#EnguanyNoSopes#NiReiNiPor pic.twitter.com/tfOAdre7CH

— CDR Catalunya (@CDRCatOficial) 18 de febrer de 2019
Translation: Sunday 24th the Bourbon plans to have dinner in Barcelona for the inauguration of the 2019 Mobile World Congress. We call you all to go out into the streets to tell him "YOU'RE NOT WELCOME, WE'RE NOT SUBJECTS!"
The plan has been echoed by pro-independence left-wing youth organisation Arran.
⚠️ En una setmana Felipe VI visita #Barcelona per inaugurar el Mobile World Congress. Felipe, als Països Catalans no ets benvingut!❌ #NiReiNiPor pic.twitter.com/2IsoNHVGsP

— Arran 🃏 (@Arran_jovent) 17 de febrero de 2019
Translation: In one week, Felipe VI visits Barcelona to inaugurate the Mobile World Congress. Felipe, you're not welcome in the Catalan countries!
Last year
Last year, no senior Catalan officials, nor the mayor of Barcelona, Ada Colau, welcomed the king at the technology conference, one of the biggest annual events in the city. Last year's opening took place whilst the Catalan government was still under central control.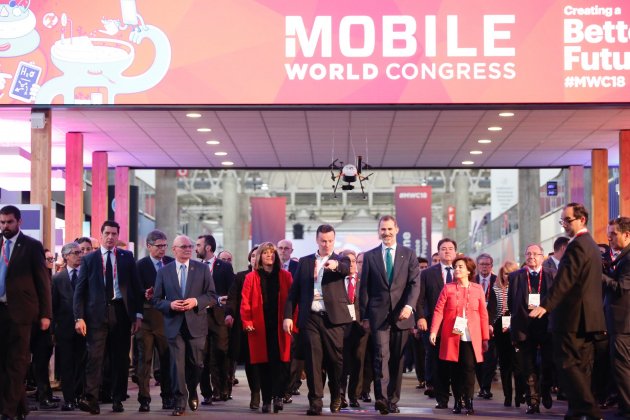 That marked the start of a complicated year in terms of the monarch's visits to Catalonia. His last official visit was for the awards ceremony for the Princess of Girona prizes. On that occasion there was no Catalan government official present either. The royal household had had notable issues to find a suitable venue after the city of Girona declared him persona non grata.
On 20th December last year, the king didn't attend the annual dinner held by the employers' association Foment del Treball, the day before the controversial Spanish cabinet meeting held in Barcelona. He had attended regularly in the past, although he hadn't done so in 2017 in the run-up to the Catalan election.