Spanish public prosecutor Consuelo Madrigal, questioning former minister Josep Rull in the Catalan independence trial, referenced an interview by Carlota Camps published by El Nacional (link in Catalan) on 27th September 2017, just four days before the referendum.
The prosecutor quoted a phrase allegedly from the interview, given in the prosecutors' pretrial filing, which reads: "dedicated to making the vote this 1st October possible with all guarantees, despite the tension being very high". She asked whether one of these guarantees was the "universal census" by which any voter could vote at any polling station.
Rull started his response quoting a longer section of the prosecutors' filing, from pages 97 and 98 (see below). He then held up a printed copy of the interview, asking the prosecutor: "where is this sentence?". He points out that despite being presented as a direct quote, the passage he read is in fact compiled from different remarks he made to different questions. Indeed, the sentence the prosecutor started reading from the filing is composed from two different answers the minister gave, as can be seen below.
From the filing from prosecutors:
From El Nacional's interview: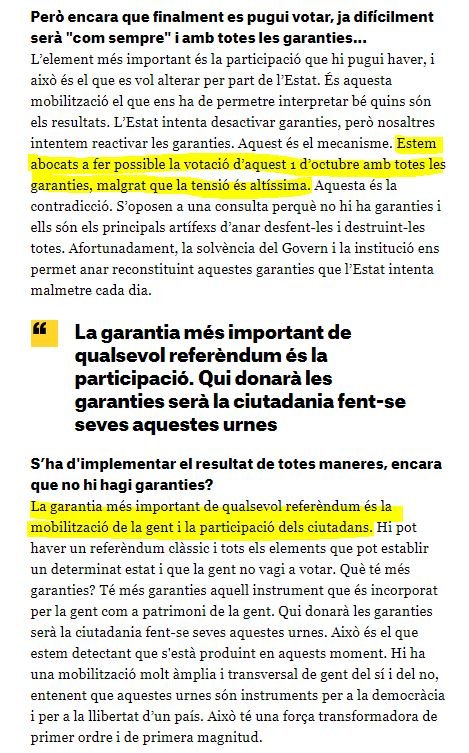 The part the prosecutor read out in court today comes from comes from an answer to one question. Answering a different one later, Rull said "the most important guarantee for any referendum is the mobilisation of the people and the participation of the public". Prosecutors had cut the words "for any referendum" and added it directly to the end of the previous quote, making it appear a specific comment rather than a general observation, and linking it directly to Rull's comment about tensions being high.
"Frankenstein construction"
Later, Rull's lawyer, Jordi Pina, talked through the quote as presented by prosecutors in their filing point by point with his client, aiming to show that they had produced what the minister described as a "kind of Frankenstein construction" which "gives the sensation of a homogeneous response to a single question".