Tomorrow's Catalan election will have an impact far beyond Catalonia and the Spanish state. Catalonia has been a focus of international attention since before the 1st October, and everything seems to suggest that this will only intensify.
As such, the BBC has published a "who's who" guide to the candidates using traditional Catalan props: caganers.
From Barcelona's Fira de Santa Llúcia, their reporter presents the heavyweights of Catalan and Spanish politics and their corresponding caganers.
The video starts with Carles Puigdemont, described as "former" president, saying he is in "self-imposed" exile after the "illegal" declaration of independence.
Next is vice-president Oriol Junqueras, in prison facing allegations of "sedition and rebellion", whose party "are doing well in the polls".
To conclude the pro-independence side, he shows a caganer of Anna Gabriel from CUP. He summarises them as "radical, hard line left" and not having "a formal leader".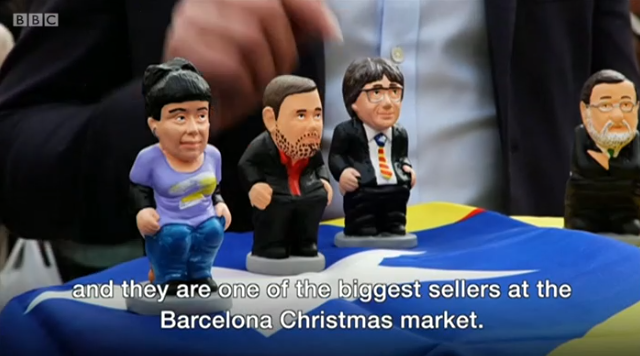 This is followed by the most curious decision in the video. To present the anti-independence parties, he doesn't use their respective candidates for the Catalan presidency, but their national leaders. In other words, he shows Mariano Rajoy, Pedro Sánchez and Albert Rivera, with no sign of Xavier García Albiol, Miquel Iceta or Inés Arrimades.
As for Arrimades' Ciutadans party, he describes them as "quite young, quite charismatic (...) [and] staunchly against separatism".
For the Catalunya En Comú-Podem coalition, against both independence and the Spanish government's "emergency measures", he uses another national figure for illustrative purposes, Pablo Iglesias.
As for tomorrow's results, he concludes that whatever happens "Europe's leaders will be watching on".