Barça and Tsunami Democràtic tried to reach an agreement for El Clásico, their match against Real Madrid on 18th December, through "informal" talks via a trusted intermediary. News agency ACN has learnt from sources from the club and the protest platform that the two sides had been in contact to try and find a way for the match and some kind of protest statement to be compatible.
The talks started shortly after Tsunami Democràtic announced its demonstration for the day of the match, two weeks ago. The protesters wanted to be able to display a large banner in the stands at some point during the match, a proposal which Barça rejected. Barça later made a counter offer which Tsunami Democràtic turned down. Since then there has been no contact between the two, sources say.
Once the link was set up, Barça accepted to stay in touch with the protest body in a way both sides describe as "informal", through an intermediary and without meetings in person. Sources from the club say that the banner Tsunami Democràtic wanted to display was so large that it might even need pulleys set up to be unfurled.
They were wary of this, feeling that letting such a degree of set up take place was a level of collaboration they didn't want to get into. Barça says the club has always been pluralistic and that, despite allowing many varied ways for its supporters to exercise their freedom of speech, they cannot accept the level of involvement that would be needed in the proposed plan.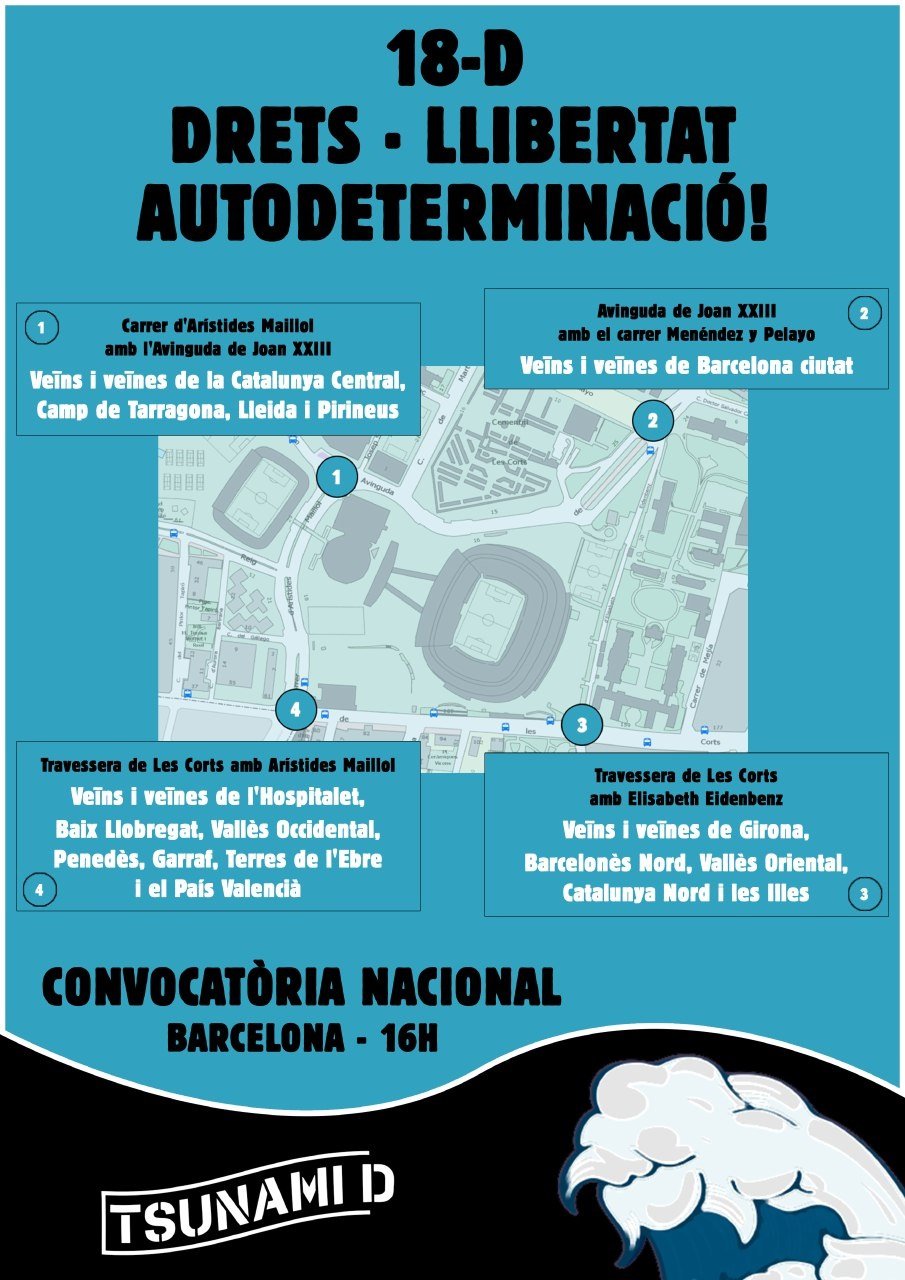 Counter offer
Sources from both sides say that the club suggested that instead they opt for a smaller banner, or that protesters bring individual signs. Barça plans to create its own giant mural shortly before the match, but told Tsunami Democràtic that would still leave them about five minutes before kick-off, and that they could repeat any action at half-time.
The offers, however, fell far short of the protesters' hopes for an action agreed upon with the two teams, and they declined. As no further proposals reached them, the talks were left there and, according to both sides, there they stay. Since, the platform has announced it has prepared actions both inside and outside of the stadium, whilst maintaining the surprise factor that's part of all their events. More than 25,000 people have already signed up to take part and coaches have been organised from around Catalonia for next Wednesday afternoon to bring demonstrators to the city.
The club say their overriding aim is for the match, one of the most hotly anticipated of the Spanish football season, to take place "under normal conditions". They add that so far no organisation, including Tsunami Democràtic, has informed them of an intention to cause the match to be suspended.
The platform insists that Barça isn't its enemy and that they don't want to attack the club nor stop the match. For it's part, the club says that it is, and always has been, a firm supporter of freedom of expression.