He'd been a deputy prime minister of Spain and secretary general of centre-left party PSOE; Alfredo Pérez Rubalcaba has died in Madrid after being admitted to hospital on Wednesday after a stroke. He was 67. The sudden passing of someone at the heart of his party for decades has shaken his party and Spanish politics as a whole.
Born in Cantabria, on Spain's north coast, in 1951, Pérez Rubalcaba earned a doctorate in organic chemistry from Madrid's Complutense University, where he would become a professor, and joined PSOE aged just 23. He was a key player in the governments of Felipe González and José Luís Rodríguez Zapatero. Under the former he was minister for education and for the president's office; under the latter he was interior minister and first deputy prime minister.
He was elected PSOE's secretary general in 2012, beating former minister Carme Chacón despite a resounding loss as the party's candidate for prime minister in the 2011 general election which saw them get what was at that time their worst results ever: 110 seats.
Pérez Rubalcaba was a noted "firefighter" within the cabinet, to use the Spanish idiom, and a party man with great political skills. He was a central figure in the negotiations for Catalonia's new 2006 Statute of Autonomy and the ETA ceasefire the same year, which the group later broke with an attack on Madrid airport.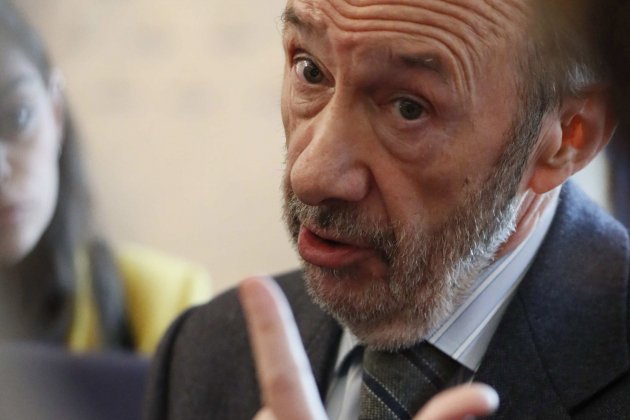 He retired from politics in 2014 to return to his university post. Head of the opposition at the time, he said: "I never believed I'd last so long [in politics], but I've always thought that the decision I took more than 30 years ago [to make the jump to professional politics] was worth it".
Even after his retirement, he remained a point of reference within the Spanish centre left, as shown by the range of visitors to the hospital over these days, including former prime ministers Felipe González and José Luís Rodríguez Zapatero and current PM Pedro Sánchez, who returned early from an EU summit to do so.
He married Pilar Goya, who survives him, in 1979. Like her husband, she has a doctorate in chemistry; unlike him, she's always kept a low public profile. They had no children.