"Hello! We'd like to reserve a table for this evening." "What time?" replies a female voice with a strong Italian accent. "At nove, for due people," we answer. "Non c'è problema. A cuala nome?" she asks. "Eulogi," we reply. "Scusa, non capisco!" the voice says apologetically. "Eulogioooo", we reply, with our best Italian accent. "Ahhh! Va bene. La tavola confermata", she replies.
And so began our Italian immersion at the restaurant Un'Altra Storia, run by a mother (Maria) and a son (Peppe) from Sicily. Peppe arrived in Barcelona more than 15 years ago and Maria, just twelve months ago, closed her aclaimed restaurant on her home island, packed her cases and got on a plane to meet her son. Together, they have opened a restaurant which transports its diners to the Italian countryside.
In fact, when you arrive, close your eyes, breath in deeply and pay special attention to the aromas emanating from the open kitchen. It's impossible to not be transported to Italy! When you open your eyes again, you'll see the restaurant isn't too big (it can barely seat 30) but has a honest, humble, but elegant atmosphere: white walls, some small family photographs, good lighting and nice table linen. Fantastic for an informal dinner with your partner or to eat with your parents.
The culinary offering is based on the family recipes Maria learned from her nonna during summers spent at her house in the country. All the dishes are made with fresh, seasonal, ecological products, imported straight from Sicily. The menu, which looks like a book, changes regularly and, if you look closely, you'll see, hand-written, the different versions it's taken during the 53 weeks the restaurant has been open for.
The version we find has 5 sections: Antipasti (6-15€), fresh pasta (10-18€), fish (18-22€), meat (13-16€) and desserts (6€). The wine menu is limited to less than 15 options, the vast majority coming from Sicily. We were very interested by the tasting menu which, for 30€ per person, includes 4 antipasti, 2 fresh pasta dishes and a dessert. Unbeatable, ideal for sharing!
This menu was the suggestion of Roberta, the young waitress from Palermo who looks after the small dining room. We Miguelines follow her order religiously and get to work. Of the 7 dishes on the menu, we think that with just the following you'll already feel yourself to be in an Italian family's house.
The "Caponata de verdures" (Vegetable caponata), something like a Catalan samfaina. Delicious to prepare your stomach, tasty and unctuous, ideal to go with bread. Then, the "Parmesana d'albergínia" (aubergine parmesan), layers of thinly sliced tomato, cheese, basil and aubergine. A very homemade taste! Next, the "Rigatoni amb carbassó, botifarra negra i menta" (rigatoni with courgette, black pudding and mint), with the pasta cooked perfectly, where the soft courgetter and the fresh mint balance out the black pudding. Finally, the "Espaguetti amb sardina, fonoll i panses" (spaghetti with sardine, fennel and raisin). Take note! It's not a dish for everyone, with an intense hit of sardine, but we loved the whole.
Caponata de verdures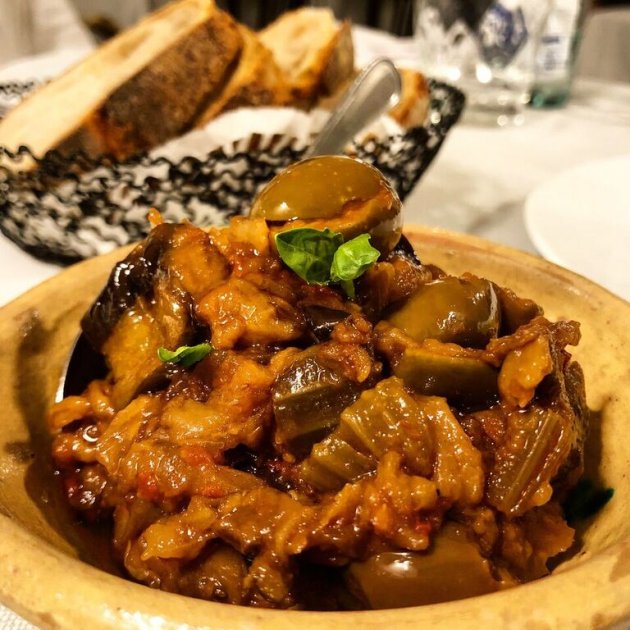 Parmesana d'albergínia

Rigatoni amb carbassó
Espaguetti amb sardina, fonoll i panses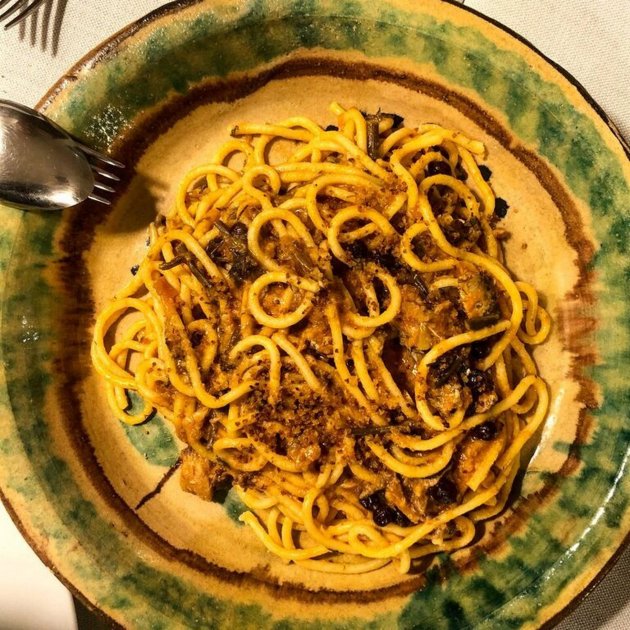 This restaurant, as its name suggests, is "another story", not just another Italian. It's genuine Italian, family Italian, simple but elegant and offering rustic food that will carry you away to Sicily. What are you waiting for?
Score
Food
 
Wines
69
 
60
Service
 
Premises
67
 
67
Price
 
Miguelín Stars
35€ or 30€
 

Per person: 4/5 dishes to share+desserts+glass of wine

Menu: 4 antipasti+2 pasta dishes+dessert (drink not included)

 
Where is Un'Altra Storia?
Address: C/ Saragossa, 122, 08006 Barcelona
Telephonew: +34 935 66 28 14
Opening hours: From Tuesday to Sunday, from 1pm to 3pm and 8:30pm to 10:30pm. Closed Mondays.
Website: www.unaltrastoria.cat