Minimalism and simplicity as a way of life. Today these concepts are increasingly distant from the modern vision of a restaurant, which is fed by veritable armies of dining room and kitchen staff executing their jobs in a highly precise, effective fashion as if they were an assembly line from the early 20th century. And, of course, all of this takes place within large, light-drenched dining rooms designed by prestigious studios which evoke a variety of emotions in the diner.
But hold on a second: within this somewhat cold and impersonal scene today, we Miguelines are always surprised when we find small temples that still worship tradition with care and tenacity by distancing themselves from contemporary fads and, actually, just doing whatever they please.
Only two people are needed to offer impeccable service without compromising the quality at any time… or at least this is what Pau (kitchen) and Glòria (dining room) have shown us at Petit Pau, a discreet, diminutive restaurant – only 6 tables! – which only serves dinner in the Sants neighbourhood.
The menu is concise and does not branch off in all directions. Around 12 dishes – 6 first courses and 6 main courses – comprise the food offerings in this restaurant. We love this kind of menu, whose brevity is designed to make it easy for diners to choose. Plus, the menu is very well thought out and balanced. Quality before quantity, always.
Regarding the wines, they have around 15 references, varied but carefully chosen, which match the dishes perfectly. If yet Glòria and her recommendations guide you as you pair wines with each dish, you won't go wrong!
So let's get down to business, because there is lots to tell.
The first thing that comes to our table is a pair of brioche flatbreads with foie and baked apple. We are delighted by the generous helping of foie and how well these flavours combine.
Brioche flatbread with foie and baked apple
The next dish is an elaborate tower-shaped construction made up of aubergines and honey accompanied by green beans and peanuts. This was our surprise dish of the night, since we never imagined that vegetables could be this delicious!
Aubergine with green beans and peanuts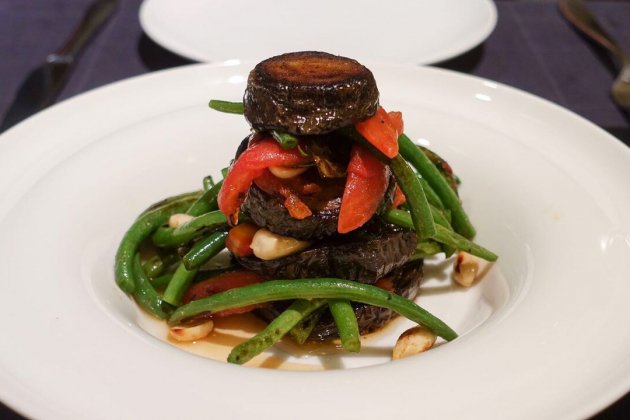 Then came outstanding fried sweetbreads – fantastic texture! – accompanied by creamy Jerusalem artichokes.
Fried sweetbreads with creamy Jerusalem artichokes
We continued with extremely juicy codfish with that characteristic gelatinous feel accompanied by a succulent "cannelloni" stuffed with roasted vegetables
Codfish with cannelloni stuffed with roasted vegetables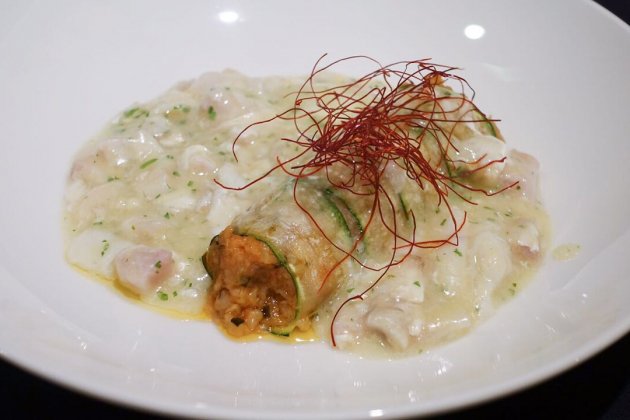 And to conclude the savoury part of the meal, we had lamb confit with cheese, tomato and basil, a colossal ending which left us ready to sample the desserts.
Lamb confit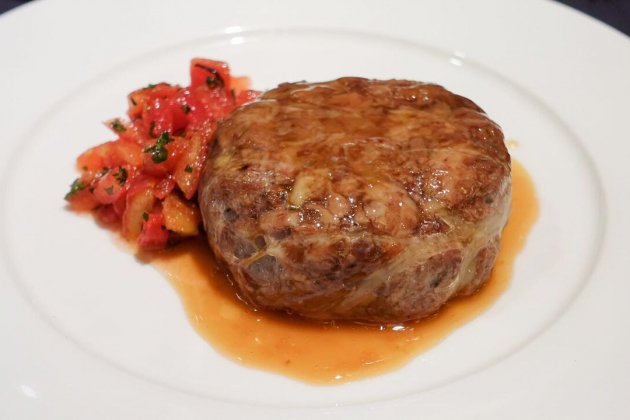 Oh, the desserts...!
Presented on a French-style dessert cart that Pau rolls through the restaurant, we decided to have a slice of red velvet cake and an assortment of cheeses, which proved to be a delightful ending to the evening.
Red velvet cake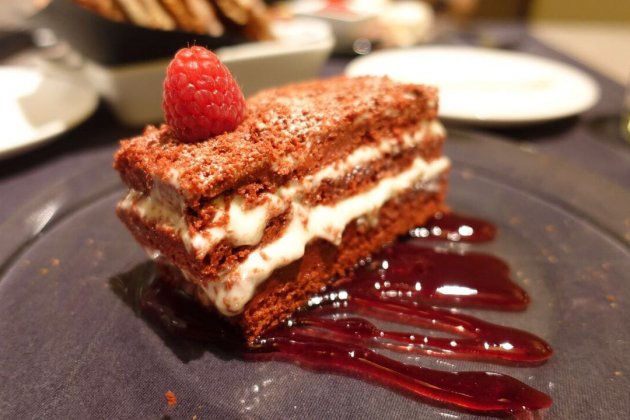 As you can see, there is a tiny place in Sants which may well purvey the best market cuisine in the neighbourhood, a must-see for anyone who adores food. We encourage you, without any hesitation whatsoever, to go enjoy yourself at Petit Pau!
Alex Ruiz (@izcariel) has assisted us with this article.
Score
Food
Wines
72
72
Service
Venue
68
66
Price
MIGUELÍN STARS
40€
Per person: 1 appetiser + 1 second course + dessert and glass of wine
Where is Petit Pau?
Address: C/ de l'Espanya Industrial, 22, 08014 Barcelona
Telephone: 933 31 32 75
Timetable: Tuesday to Saturday 8 to 9:30 pm with reservation. With no reservation after 10:30 pm. Closed Sunday and Monday.
Website: www.petitpau.cat