The week of Easter, known in Catalan as Setmana Santa, or Holy Week, is a very special holiday in Barcelona. There is a whole week of festivities with parades, special sweets and celebrations throughout the city. To make the most of Easter in Barcelona 2023, check out this schedule of events from Sunday, April 2nd until Monday, April 10th. From processions of palms to chocolate eggs, you are sure to be in for a treat this Easter in Barcelona!
Schedule of events for Easter in Barcelona 2023
Throughout Setmana Santa and the week leading up to Easter, there are celebrations and festivities to bring in this spring holiday season. Learn what events are important not to miss, so you can celebrate Easter in Barcelona 2023 to the fullest.
Diumenge de Rams - Palm Sunday
One of the biggest celebrations marking the start of Easter Week is Diumenge de Rams or Palm Sunday on April 2nd. On this day, crowds wait outside the churches all around Barcelona for a priest to come outside and  bless the palms . This is meant to symbolize the palms that surrounded Jesus's path when he was entering Jerusalem before his death. When it comes to the actual palm leaf, Barcelona takes it to the next level. Traditionally, boys will carry around tall palm stalks called palmons and girls will carry around palmes, which are intricately woven into crosses and other beautiful designs. Many of them will also be tied with Catalan flag ribbons. You can purchase your own at many of the Barcelona markets, outside the Barcelona Cathedral or on Rambla de Catalunya. 
There is also a huge procession on Palm Sunday, usually in the morning, at the Plaça Sant Agustí in the Raval neighbourhood. The procession involves Jesus entering into Jerusalem on a donkey surrounded by people holding up palms. Other blessing ceremonies take place outside the Barcelona Cathedral and Sagrada Família Basilica. These celebrations on Palm Sunday are some of the largest and most important of all of Setmana Santa.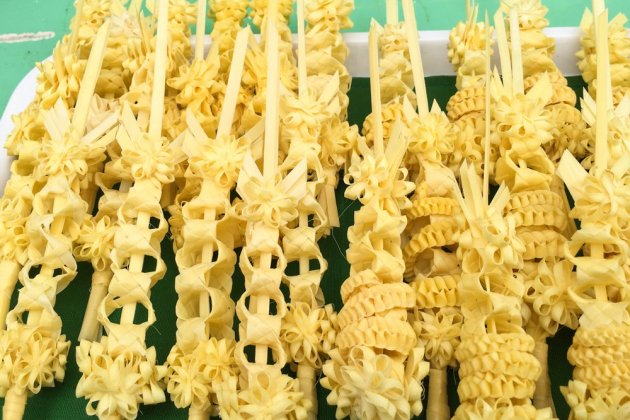 Divendres Sant - Good Friday
Divendres Sant or Good Friday is a public holiday all over Spain, so there are many processions and activities all day on April 7th outside the Cathedral. Shops are closed for the holiday, as well as many bars and restaurants. But, luckily there is still lots to do between the Good Friday parades and processions. Many Barcelona churches will have processions such as the Església de Sant Agustí, Església de Sant Jaume, Santa Maria del Mar basilica and, of course, the Barcelona Cathedral . Some of these processions unite with other processions or at the Cathedral for a special ceremony and sermon.
Dissabte de Pasqua - Easter Saturday
Although there are some celebrations on April 8, Dissabte de Pasqua, Easter Saturday is not a public holiday, so most things will be as usual, with some businesses staying closed for the long weekend.
Easter - Easter Sunday
The week has been building up for this day, Pasqua or Easter Sunday on April 9. On this holiday, there will be mass and services at all Barcelona churches. Most businesses will be closed and there will be processions throughout the entire day. Some of the most popular churches to attend when celebrating Easter in Barcelona are the Barcelona Cathedral, Santa Maria del Mar church and the Sagrada Família.
Dilluns de Pasqua - Easter Monday
Dilluns de Pasqua, or Easter Monday, is also known as the day of Mona de Pasqua . This year, this day occurs on April 10, and it marks the end of Setmana Santa with a sweet surprise of an Easter cake or Mona de Pascua. The history of these Easter cakes date back to the 15th century when, during Lent, Catholics were not supposed to eat meat or eggs, so they saved these eggs to make these Mones de Pasqua. Traditionally, many of the cakes were round with hard-boiled eggs in the middle. The number of eggs in the cake was supposed to correlate with the age of the child receiving the cake, from years 2 to 12. The Mones de Pasqua and chocolate egg sweets are very symbolic elements for Easter because they represent the start of spring and fertility. One of the very popular locations in Barcelona to purchase these Easter treats is Escribá, a chocolate shop, known for its intricate, detailed Mones and other Easter candies. It is definitely a necessary part of the holiday to enjoy a Mona to wrap up this Easter week of celebration in Barcelona!