This will take a little explanation. One of Catalonia's surprisingly scatological Christmas traditions is the figure of the caganer. The canonical caganer is a small statue of a person in traditional Catalan dress, hidden in the back of Nativity scenes. It gets its name, which translates loosely to "defecator", from its pose: squatting down with its trousers around its ankles. The origins of the practice are unclear, although one explanation that has been suggested is that it is a symbol of fertilising the fields, bestowing good luck on the family for the year ahead.
In recent years, though, the custom has grown and morphed. Now, customers can also buy caganers modeled on public figures and pop culture icons. Today, Girona firm caganer.com, one of the most important in the sector, has announced its new releases for 2019. Looking to bring greater equality to its range, most of its headliners are women, including the singer Rosalia, the activist Greta Thunberg and a number of female superheroes.
According to the company's sculptor, Marc Alòs, "we always look for there to be a lot of women within our collection". This year, then, he took inspiration from the phenomenon of Rosalia ("a person from Catalonia who has reached where she has had to be within our imaginary world"), as well as the rise in prominence of Greta Thunberg and DC Comics' Wonder Woman and Harley Quinn.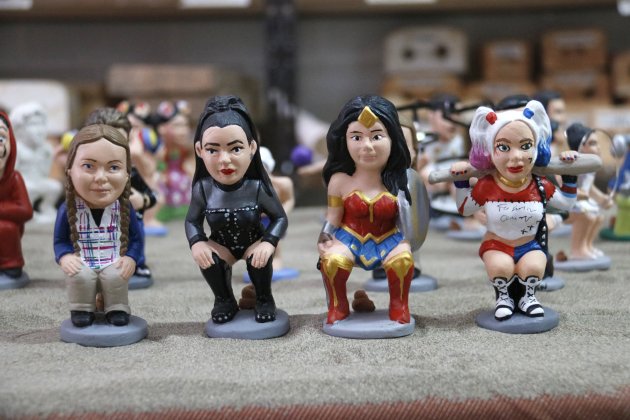 Alòs said that political figures are less important this year. Last year, they had released caganers of all the pro-independence leaders in prison or exile, as well as a number of international leaders like Theresa May. This year, then, they have only added May's successor as prime minister, Boris Johnson, and Pablo Casado, Mariano Rajoy's replacement as head of the Partido Popular. Not politics, but still the broad world of current events, they decided to commemorate the Notre Dame fire with a figure of one of the building's gargoyles.
Also among the fifty new figures presented this year is one inspired by the Spanish TV series La Casa de Papel (titled Money Heist in English), which has seen international success. The figure is of one of the robbers dressed all in red wearing a mask with Salvador Dalí's characteristic moustache.
Still within the world of fiction, the company has sculpted Mr Bean, one of a number of British comedies to have achieved popularity in Catalonia, as well as Monkey D. Luffy from the manga One Piece, and a lion design that's evocative of a certain Disney movie. Meanwhile, Wonder Woman and Harley Quinn are accompanied by Deadpool and Groot.
Turning to sport, two of the season's biggest signings, Barça's Antoine Griezmann and Real Madrid's Eden Hazard, have been included in the new range. From tennis, Novak Djokovic joins the already-existing Rafael Nadal and Roger Federer.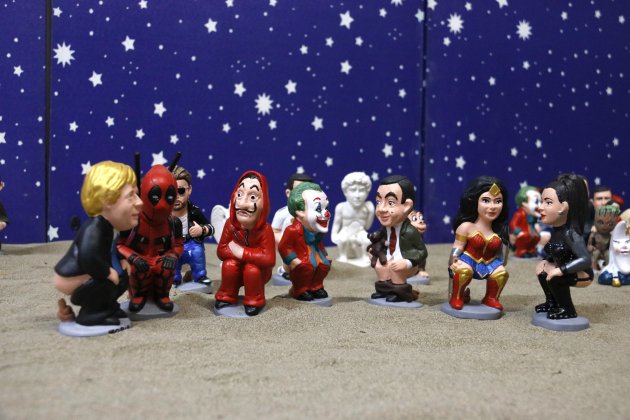 More professions
Another popular category of figures for the company doesn't represent specific people, but generic professionals or sportspeople. From this Christmas, therefore, customers can also buy a female chef, surgeon, golf player, football player or rhythmic gymnast.
Sergi Alòs, Marc's brother, said that adults often "look for the character of their profession" as a gift for colleagues. He said such figures are in high demand in both male and female versions, for which reason they expand their range every year.
Best-sellers
Whilst originally, the caganer in traditional dress was their biggest seller, it's been overtaken in the rankings by Carles Puigdemont, Barack Obama, Donald Trump and Leo Messi. As for caganer.com, they were one of the first Catalan businesses to create an online store and now ship worldwide. Indeed, one of their objectives has always been to help spread Catalan culture.