The Creu de Sant Jordi ("Cross of Saint George") is one of the highest civil distinctions awarded by the Catalan government. It recognises people or organisations who "through their achievements, have offered notable services to Catalonia in the defence of its identity".
Among those decorated with the award at tonight's ceremony was Leo Messi, the Barça forward from Argentina widely considered one of the best players in history.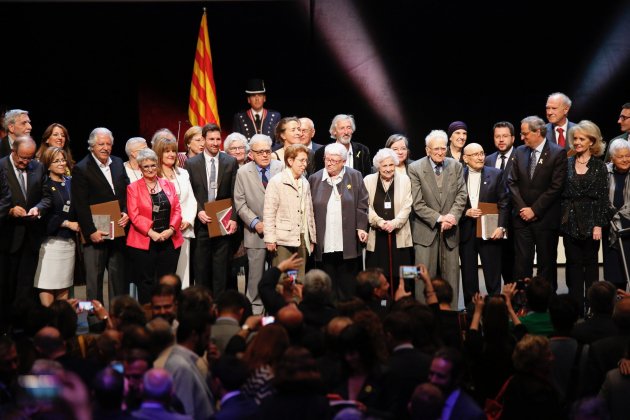 Other winners this year include the sky runner Núria Picas, satirical music group La Trinca, Slovenian MEP Ivo Vajgl and former speakers of the Catalan Parliament Joan Rigol and Ernest Benach, besides various entrepreneurs, artists, teachers and professors and linguists. Originally, Rigol and Benach were to be joined by fellow former speaker Núria de Gispert, but following a controversial tweet she announced she would let the government decide whether or not to maintain the award.
In the case of Messi, as well as his sporting success at Barça, he was also recognised for his involvement in Catalan society through his foundation. Among its projects, it funded part of the construction of the Sant Joan de Déu Pediatric Cancer Centre, the largest childhood oncology centre in Europe. It has also collaborated with the maternity unit of Barcelona's Hospital Clínic and Vall d'Hebron hospital to improve the children's and teenage wards.
With Barça, Messi has won a total of 34 titles, including 4 Champions Leagues, 6 Copas del Rey, 3 FIFA Club World Cups and 10 Ligas. The latest Liga, wrapped up earlier this season with three games in hand, a campaign in which he's scored 34 goals so far. In his career, he's won a record-tying five Ballon d'Or awards.
Third Barça player to win a cross
Today's award makes him the second footballer in Barça's history to receive the Creu de Sant Jordi, after Johan Cruyff did so in 2006. In 1996, basketball player Juan Antonio "Epi" San Epifanio had been so decorated.
🙌 Leo Messi, Creu de Sant Jordi 2019. Molt orgullosos de tu, Leo! pic.twitter.com/QJp6wVpAVq

— FC Barcelona (@FCBarcelona_cat) 16 de maig de 2019