Gerard Piqué will cease to be a Barça player before the end of 2022. The news was announced by surprise this Thursday via an emotional video in Catalan, when he made it clear that this coming Saturday against Almeria will be his last match at Camp Nou. And he has also confirmed that the time has come for his retirement from football.
It draws to a close a period of 15 seasons in which Piqué has played in Barça's first team. He has played 615 games for the club and scored 52 goals wearing the blaugrana colours. And in the video, he explained the reason for his retirement from football, given that after Barça, there will be no other club.
Culers, us he de dir una cosa. pic.twitter.com/k3V919pm1T

— Gerard Piqué (@3gerardpique) November 3, 2022
Gerard Piqué says 'adeu' to Barça and football
"Culers, this is Gerard. For weeks, months... a lot of people have been talking about me. Up till now I haven't said anything, but now I want to be the one to tell you about me. Like many of you, I've been with Barça forever. I was born into a family with a great love of football ...and of Barça. From a very young age I didn't want to be a footballer, I wanted to be a Barça player," begins the Catalan defender. "Lately I've thought a lot about that boy, what Gerard would have thought as a child if he had been told that he would fulfill all his dreams... that he would reach the Barça first team, that he would win all the titles possible, that he would be champion of Europe and of the world, that he would play alongside the best in history, that he would be one of the captains, that he would make friends forever...", Piqué explains, over a video of images from his footballing childhood.
And then, he announces his future: "It's now been 25 years since I joined Barça, I left and I came back. Football has given me everything. Barça has given me everything. You guys, culers, you've given me everything. And now that that boy's dreams have come true, I want to tell you that I've decided it's time to close this cycle." And he made it very clear that he is also leaving professional football at the same time: "I have always said that after Barça there would be no other team. And so it will be".
Tota una vida dedicada al Barça. Gràcies, Piqué. pic.twitter.com/kxshSnhHJB

— FC Barcelona (@FCBarcelona_cat) November 3, 2022
Piqué also confirmed when it will be the moment to say goodbye to the culers: "This Saturday will be my last match at Camp Nou. I'll carry on being just another culer, cheering the team on and passing on my love for Barça to my sons, just as my family did to me." Thus, Piqué's farewell to Barça and the world of football comes at the end of this 2022. He's decided to do it in a way that is special and different, his own way - and in the middle of an ongoing season.
Piqué still has the match against Almeria and then the duel next Tuesday at the Osasuna ground. That will be his final match with Barça. And right after is the World Cup in Qatar, where his presence is still an unknown, but the tournament could be his swansong in professional football, since his name is among those selected on Luis Enrique Martínez's shortlist for the Spanish national team.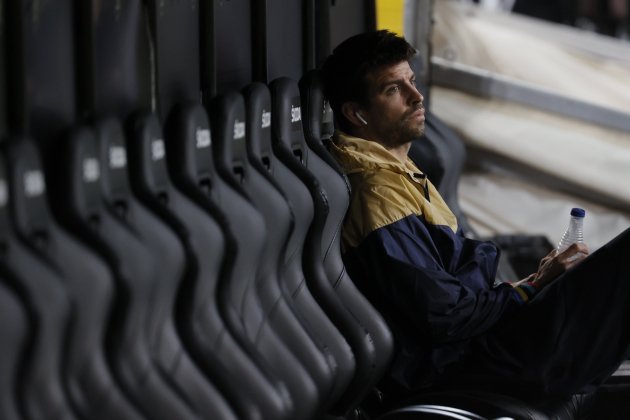 To finish the video, he offers what might be a first, way-ahead-of-time election campaign meeting to one day become president of Barça, one of his other big dreams: "And you know me, sooner or later, I'll be back. We'll see each other at Camp Nou. Visca el Barça! Always!"