Football is back. Germany has become the post-coronavirus testing ground as the Bundesliga has returned. This Saturday, Sunday and Monday saw the completion of the first round in a major European league which has returned, more or less, to normality. Nine matches and a great deal to reflect on.
Germany mobilizes for football
No pre-match handshakes, no pile-on goal celebrations, masks worn by those on the bench - and stadiums without spectators. Football has certainly changed in certain ways, but the ball keeps rolling. And the object continues to be to put it in the back of the net more than the other lot do.
Looking at a map of Germany you can clearly see how there are "no distinctions" in football. Matchday 26 of the Bundesliga was played where it had to be played, in stadiums throughout the territory, in seven different Länder from north to south and from east to west - with no consideration of which regions have been most affected by Covid-19. Thus, one of the aspects to note is that if football competitions return, matched must be played on equal terms, as they have been in the past: playing in the city they are scheduled to be played in, and with a full round being completed over each weekend.
Bundesliga 2019-20: Round 26
There is no option for a match to be played in Augsburg and another not to be played in Bremen. When Spain's Liga returns, even though the health region of Mallorca may have already passed through three phases of the coronavirus deescalation plan, and Barcelona might still be in Phase 2, football will have to be played everywhere.
This fact makes it clear once again that the world of football in Spain is separated from everyday society. Fair or unfair, the privileges were already demonstrated this Monday when, although some teams are still living in areas classified as Phase 0 - with most provisions of coronavirus lockdown still in force - the professional footballers were able to advance three steps further and started group training.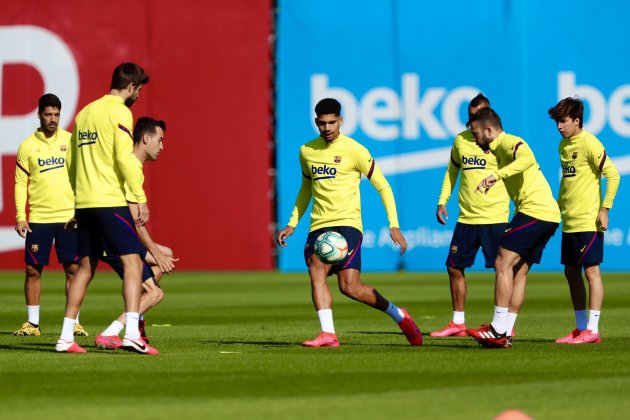 Barça's great fear
And at the end of this first post-coronavirus round in Germany, it also becomes clear that Barça could have a serious problem when competition returns. Both this season and last, the Catalan superclub has played some very mediocre football yet has managed to hang on, winning two leagues and a Copa del Rey. All thanks to the Camp Nou effect. With the public behind them, this Barça has been almost indestructible. But they suffered badly in away games.
Looking at the weekend's Bundesliga results, it's obvious that the empty stands effect is devastating. Of the nine matches played on matchday 26, only one team, Borussia Dortmund, won at home. Apart from the Borussers, home teams suffered 3 draws and 5 defeats.
It was the second-to-worst round for home teams all season. The only time local sides have achieved a worse result was in round 6 when nobody won at home.
Jornades 1-26: resultats dels equips locals
So, a message for Barça and for the teams from all over Europe - especially the large ones and those known for their stadium atmosphere, as the leagues resume between this month and next. The empty stadium effect is real and the differences between playing at home and away will no longer be so great. Conditions could be perfect for those brave but pesky giant-killers.
Still, if that's the big worry that's going to prey on the minds of the teams and the fans, after weeks of lockdown and tens of thousands of deaths across the continent, then perhaps we can actually mark it down as a small cause for celebration in itself. No?