Kobe Bryant has left us forever on this Sunday in January after a terrible helicopter crash, but his smile and his spectacular basketball will always remain. The five-time NBA champion, Los Angeles Lakers legend, will also be remembered by sports fans in Catalonia for his quite special relationship with Barça. The FC Barcelona club, players and fans have all expressed their shock and sorrow at the untimely passing of a sporting great.
Kobe's connection with the Barça club came about a little bit through Ronaldinho, a little bit through Leo Messi, but of course very much through Pau.
Beyond devastated... my big brother... I can't, I just can't believe it

— Pau Gasol (@paugasol) January 26, 2020
Barcelona native son Pau Gasol, who started his career in his hometown club before moving to the NBA, was "beyond devastated" at the news.
Kobe and Pau, friends and teammates at the Lakers from 2008 to 2014 and together they won NBA rings in 2009 and 2010. Gasol even wrote the foreword to the book Kobe Bryant: The Mamba Mentality.
The FC Barcelona club expressed its condolences in a tweet.
Shocked by the death of @KobeBryant, an exemplary athlete both on and off the basketball court. Our most heartfelt condolences to his family and loved ones. Rest in peace. pic.twitter.com/wGhF4xouVL

— FC Barcelona (@FCBarcelona) January 26, 2020
Kobe actually stated once that if he left the NBA he would have played in Europe and at Barça. But his direct relationship with the Barcelona club began in 2006 when he coincided with the football (soccer) squad at a Nike event in Los Angeles. A year later, he visited Barcelona and took time to visit a training session of the Barça first team, then coached by Frank Rijkaard and led by Ronaldinho. "I came to enjoy my favourite football team," he said.
In 2008, about the time Pau Gasol came to Los Angeles, so did the Barça football team for an exhibition match. Kobe Bryant was present. He commented then that the young Leo Messi was "the best in the world."
Defender Carles Puyol, a key part of the team in those days, sent this message on Sunday.
Kobe Bryant and Pep Guardiola played a charity match in 2011 during a Barça tour to the US.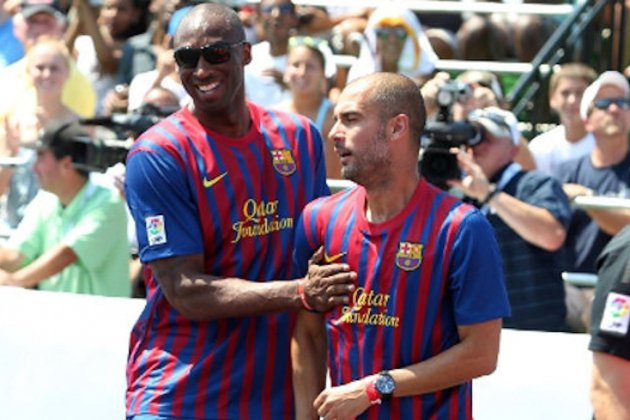 And in 2015, on another tour stateside, Kobe posed for a photo with the first team, with Andrés Iniesta out front (that's the title photo above).
The Barça universe mourns Kobe Bryant
Translation:
"I have no words ... All my warmth to Kobe's family and friends. It was a pleasure to know you and share good times together. A genius, like few others, has left us."- Leo Messi
Rest in Peace, Mamba. pic.twitter.com/BgcDnXLCyZ

— Gerard Piqué (@3gerardpique) January 26, 2020
Kobe 😭 !!!!!!!

— Samuel Umtiti (@samumtiti) January 26, 2020
No me lo puedo creer...😭 Descansa en paz leyenda.🙏 DEP #restinpeace #kobebryant #legend #blackmamba pic.twitter.com/TQZFCLYaT8

— Ivan Rakitic (@ivanrakitic) January 26, 2020
"I can't believe it ... 😭 Rest in peace legend"— Ivan Rakitic
R.I.P. LEGEND 🖤 pic.twitter.com/nF0u8QRT2h

— Arthur Melo (@arthurhromelo) January 26, 2020
RIP #KobeBryant pic.twitter.com/WBTSgdv9at

— PepTeam (@PepTeam) January 26, 2020
And back to the two "brothers" for another unforgettable image. Rest easy, Kobe.